Good times are coming back again for school children in Rivers state, as the young ones, aged between 14 – 19 years, have been promised fantastic prizes,  including laptops, scholarships and special training abroad by Chief Dumo Lulu-Briggs, for their participation in the 'Rivers of My Dream' Essay competition, organized by the popular Silverbird Rhythy 93.7 Fm Radio station in partnership with the Dumo Lulu-Briggs Youth Foundation, DYF 23.
RIVERS OF MY DREAM is an essay writing series, aimed at engaging the minds and imaginative capacity of participants positively. Simply put, RIVERS OF MY DREAM is a platform for participants, aged 14 -19 years to express their dreams and desires for Rivers State.
Expressing the motivation behind his decision to be involved with the "Rivers of My Dream" Essay Competition, Chief Dumo Lulu- Briggs, who went down memory lane to recall those good old days when children were not only rewarded with exotic gifts for their academic excellence but also encouraged to put in greater effort with promises of more gifts, lamented the situation these days where money and the get rich quick syndrome has even filtered down to the level of children and the perception that violent conduct and bearing arms was more lucrative than academic pursuit.
"The main reasons for which i decided to sponsor the "Rivers of my Dream" Essay competition is first to help improve and add value to the standard of the education of our children which has fallen so badly over the years and to  also encourage the young ones to understand and appreciate the fact that there is reward for academic work and they should.embrace the things that will build them up and help them grow intellectually and academically instead of beliving that they will become successful once they carry arms for one big man and perpetrate violence in the society.
Speaking further, Chief Dumo Lulu-Briggs said: "I still remember those good old days when our parents will encourage us to pass our exams by promising to buy us gifts, if we came out tops in our exams or performed  very well in school and in studies. Today that culture is no more and that is why I got involved in this project, to help bring back that attitude and spirit of academic excellence in our young people and encourage them to believe that there is still reward for hard work.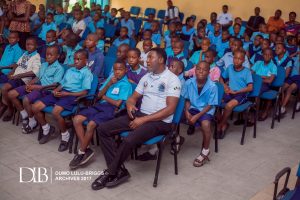 "I did not hesitate when Mr. Gbenga James of the popular Silverbird Rhythm 93.7Fm Radio station came to me and solicited my involvement in this laudable project. Like you know, i am very passionate about youth empowerment and capacity building and we have our youth Foundation the DYF23, through which we have been delivering our youth oriented programmes, like the Google partnership Infotech project for youth empowerment and capacity building , our various youth training programmes including the fumigation training, our annual youth scholarship programme and other educational programmes, under which this Rivers of My Dream Essay Competition appropriately fits into. So immediately I heard about it, I promptly directed the organizers to liase with DYF23 team and inform me of the logistics so we can contribute and support this great project for our young people", the renowned Youth mentor confirmed.
Chief Lulu-Briggs was however quick to stress the point that this programme was not monetary incentive based but would be sponsored on a reward system where the winners would not only appreciate the virtue of reward for hard work, but would be provided with educational aids and even scholarships to the highest levels of educational pursuit and the most productive educational, leadership and capacity building institutions anywhere in the world, in order to prepare, build and fully equip them with relevant skills to compete favourable with the best in the world and also be ready to take full control of the future the Rivers state of their dreams.
Explaining the vision behind the "Rivers of My Dream" Essay Competition, the Prime mover of the laudable project, Mr. Gbenga James, a popular On Air Personality with Silverbird Rhythm 93.7Fm Radio station in Port Harcourt, said that the objective was to engage the time and minds of the young children with a profitable and intellectually stimulating academic challenge, well as inculcate a sense of pride, involvement and identity with the Rivers state of their dreams.
"Our objective and motivation in organizing the Rivers of My Dreams essay is two pronged. The first is to engage, encourage and stimulate the intellectual capacity of the children aged between 14 -19 years in a profitable and challenging academic exercise which will not only help to occupy their minds positively as school children, but also help to build a bonding and a healthy competition amongst the teenagers as they cross fertilize ideas and even spur each other to be involved in a positive, knowledge based engagement, instead of being pre-occupied with negative thoughts. The second objective is to help the children develope and nurture  a sense of pride, identity and ownership in the shaping the future of Rivers state, especially since the Essay competition will afford them the opportunity of really expressing their hopes, expectations, desires and sense of belonging in the Rivers of their Dreams. Our intention is to build a new future generation of Rivers children, who will inherit and shape the Rivers of their Dreams in the near future", Gbenga James said with conviction.
Explaining the format for participation and submission, he said, "The first Season of the Rivers of My Dream Essay Competition started in December 2017 and will run for One Quarter, which is from December 2017 to February 2018. All the children have to do is submit an entry every week. The leading entries will be read out on a Special program already dedicated to the competition every Saturday by 11.30am on Silverbird Rhythm 93.7fm. At the end of the quarter, which is 13 weeks, the star Prize winner will emerge and will be announced on radio and all other state and national media", he stressed.
Speaking on the sponsorship package provided by the sponsor for the star prize winner and other participants in the competition, Gbenga said: "We were extremely lucky and blessed to have got our sponsor, Chief Dumo Lulu-Briggs to support this laudable vision for our young children. Indeed he had no hesitations about sponsoring the "Rivers of My Dream" Essay competition from the very moment we approached him and he has fully endorsed the star prize which is to sponsor an all expense-paid scholarship for the star winner, to attend a Youth Leadership training conference, workshop or seminar in any part of the world. He also agreed to that every other finalist will be given attractive consolation prizes, including laptops and other modern and practical educational aids to assist them with their learning and studies.
Gbenga James, who stressed the important fact that a distinguished team of outstanding intellectuals, including Professors sourced from the leading tertiary institutions in Rivers state, have been selected to form the college of judges for the competition, equally emphasized that the "Rivers of my Dream" Essay Competition has already started since December 1st and entries have been pouring in from young Rivers children, even as he urged those who have still not entered the competiton to do so without delay and be in line to become winners of the wonderful prizes, including the star prize of going abroad to further their education, for the star winner, which Chief Dumo Lulu-Briggs has graciously endorsed for  the participants.
Concluding his explanation  Gbenga James said: "Children, Please Send in your entry today with important details such as your name, age, address and occupation. Send your entry via email to riversdreams23@gmail.com. The ball is now in your court. If you are within the required age group, send in your entry and you may be the star winner.
"You must also be resident in Rivers state.For enquires, and information, you can call Gbenga on 08030968199 or Barber on 09095500061," he instructed.
Gbenga James also hailed the Dumo Lulu-Briggs Youth Foundation for embracing this very laudable project of educating and enhancing the academic and intellectual capacity of the young people of Rivers state.
"Many thanks to DYF23 who have provided this unique platform to engage our young ones intellectually and positively. Posterity will record this kind gesture as a noble deed. You can join the DYF 23 Foundation and be a part of this wonderful project. To do this, just like or follow RIVERS OF MY DREAM on Facebook. Look up RIVERS OF MY DREAM on Facebook", he informed.
DYF 23 is one of the leading youth based groups in Rivers state. The Dumo Youth Federation 23, popularly known as DYF 23. DYF 23 has branches in all the 23 local govt areas of Rivers state. The Youth Foundation is fully committed to moral and character building, society building, engaging youths for quality contribution to development and preparing youths for responsible citizenry. The group's patron and mentor is chief Dumo Lulu Briggs, affectionately called, DLB, is the sponsor of the Rivers of My Dream Essay Competition.
Chief Dumo Lulu-Briggs through the DYF 23 platform, also gives annual scholarship to undergrad
Chief Dumo Lulu-Briggs through the DYF 23 platform, also gives annual scholarship to undergrauates in the country and annually help candidates register for Jamb. Over 500 persons benefit from the free JAMB registration across the 23 LGAs of Rivers state every year.
By David Diai