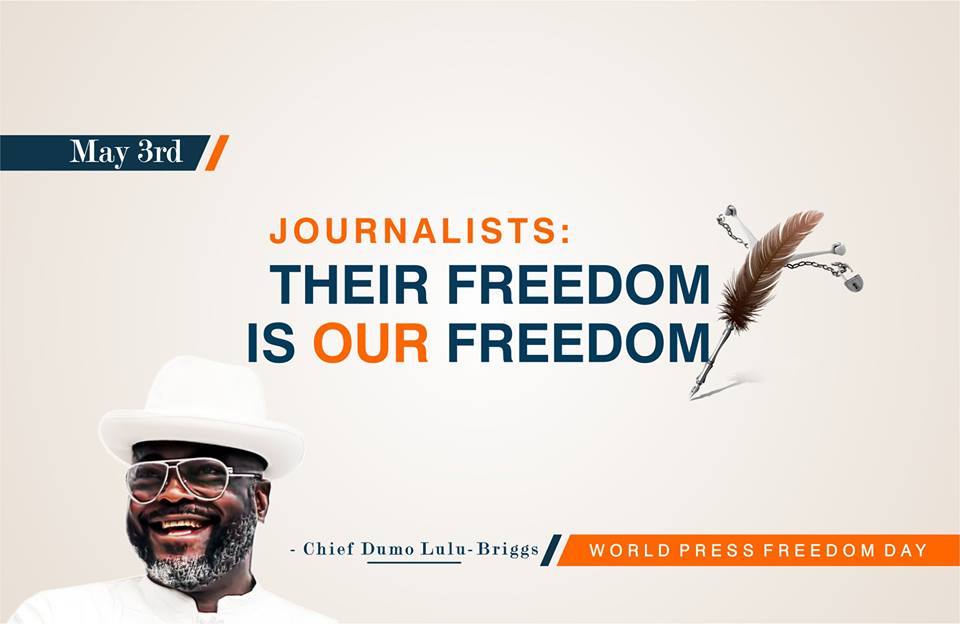 SPECIAL GREETINGS TO MY FRIENDS IN THE MEDIA AS THE WORLD MARKS WORLD PRESS DAY
It was Thomas Jefferson who said that, "the only security of all is in a free press."
Indeed, what meaning could we have made out of the concept of Public Accountability without the Press?
World Press Day is very significant for the basic reason of raising awareness about the importance of Press freedom everywhere in the world. Through such awareness, governments and relevant agencies will be reminded of their duty to respect and uphold the right to freedom of expression as provided in Article 19 of the 1948 Universal Declaration of Human Rights and in section 22 and 39 of the Nigeria Constitution which further gained strength by the establishment of the Freedom of Information Act, signed into law on 28th May, 2011 by the President Goodluck Jonathan administration..
For all citizens who appreciate their sacred right to freedom of speech and information, it is important to take advantage of this day in advancing the cause that free communication and expression through various media, is a right to be exercised freely. The world must know that such freedom implies the absence of interference from the state. Media managers must be aware of the relevant constitutional provisions that help to preserve and protect the right to Press freedom.
I therefore join all men and women of goodwill to congratulate the media industry and all her experts and practitioners for keeping us informed and demanding responsibility from governments and public servants.
While I commend the Nigerian state for its tangible efforts in recognizing and protecting the freedom of speech and information, it is my wish that the governments will keep improving in this crucial duty as we gradually move to take our place in a rapidly growing world of technology and human Civilization.
Happy World Press Freedom Day to all my media friends and workers!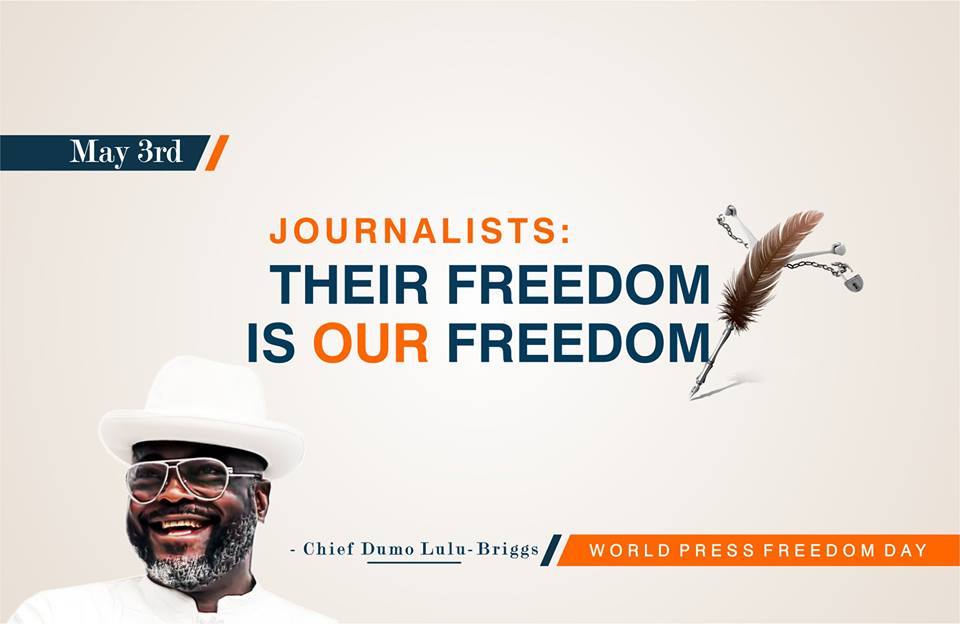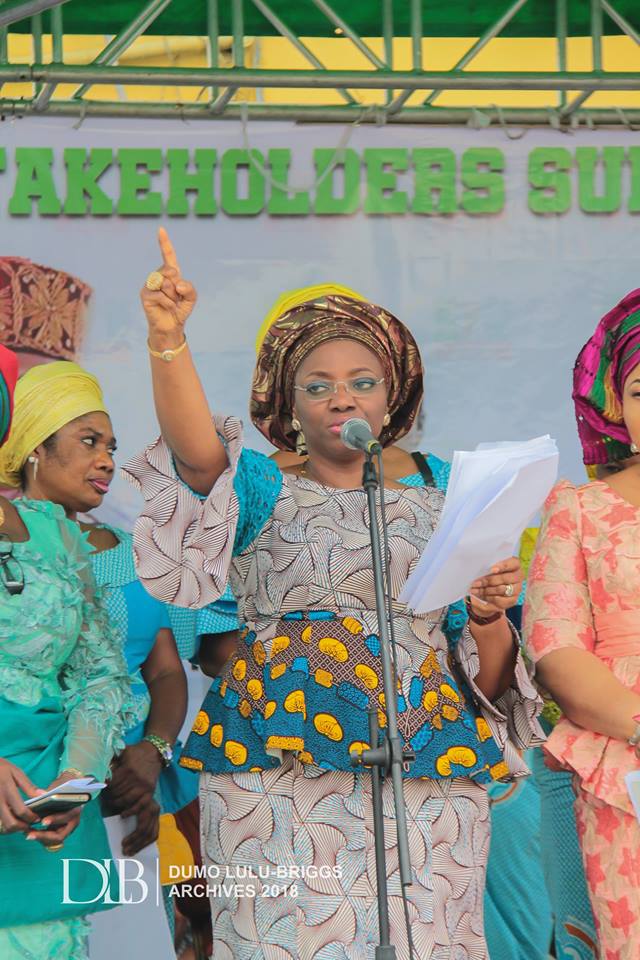 WOMEN SHOULD NOT BE LIMITED BY PERCENTAGES
– Dumo Lulu-Briggs
It was an epoch making event; an APC Women Summit tagged "Women in democracy: Harnessing the strength for National development. The great event was held at the newly commissioned APC Rivers State party secretariat along Aba Road, Port Harcourt, on Saturday the 28th of July, 2018.
The mind rejuvenating summit which was centered on the popular and recurring subject of women in politics, challenges and benefits, had in attendance the very respected women of the All Progressives Congress drawn from across the country, accompanied by selected great men of the party in the state. Leading the women was the National Women leader of the party; Hajia Salamatu Baiwa who admonished women to work even harder than men if they must occupy their desired place of importance in the polity and in every other aspect of life.
The summit was declared open by the great mother of Rivers State, Dame Judith Amaechi, wife of the Federal Minister for Transportation, Rt. Hon. Chibuike Rotimi Amaechi. In her very articulate and concise keynote address, she briefly highlighted some of her achievements in the area of Gender Democracy as the First Lady of Rivers State at the time, and commended her dear husband who also made deliberate efforts in balancing political appointments in public service. The wife of the Minister stated emphatically that there's no nation without women and advised Nigerian women to unitedly mobilize themselves for the actualization of their collective aspirations. She thanked the wife of the president, Hajia Aisha Buhari who has done so much for women and for the less privileged in Nigeria.
In a paper delivered by Hon. Mrs. Maureen Tamuno, seven factors were itemized as the challenges hampering women participation in politics and governance in Nigeria. They include:
1. Discriminatory sociocultural practices.
2. Under representation of women in politics.
3. Insufficient financial resources.
4. Unhealthy political environment.
5. False perception of women in politics.
6. Origin of women aspirants.
7. Lack of education.
The event also witnessed goodwill messages from other high profile party women and men including the ever vibrant chairman of the party, Hon. Ojukaye Flag Amachree who advised the women to rise up to the challenges of National development., Hon. Victoria Nyeche, Hon. Joeba West and other respected and distinguished personalities who also inspired the women with words of wisdom.
In an interview granted at the venue of the event, Chief Dumo Lulu-Briggs corroborated the women's position of being vital to political development and governance, with a bolder statement in which he declared that percentage affirmations are limiting to women. He opined that women should rather be considered for active participation and engagements on the basis of individual capacities and qualifications.
Other dignitaries at the event include:
Madam Joi Nuneih, Chairman, Center for women development.
Hon Victor Giadom, deputy National secretary of APC and his beautiful wife, Mrs Esther Giadom.
Chief Emeka Beke, State Secretary, APC Rivers State.
Evang. Caroline Nagbo, State Women leader, APC Rivers State.
Engr. Sampson Ngerebara, President General, Free Rivers Development Initiative.
Hon Aso Wenah, Former Liaison Officer, Rivers State Liaison Office, Abuja
Mrs. Ndidi Odili, and many others.
It wasn't all about talks; the music makers were on ground and did a wondrous delivery of thunderous melodies that enveloped the atmosphere with jubilant ecstasy. Not even the wife of the minister was spared in that magnetic singspiration and dance attraction. It was indeed a summit with the touch of family reunion and a hearty celebration.
Uche Woke
SA Media DLB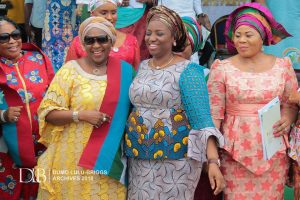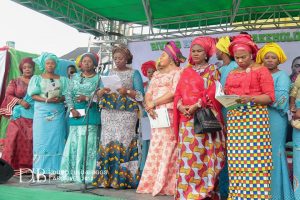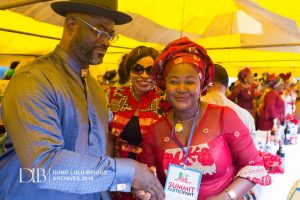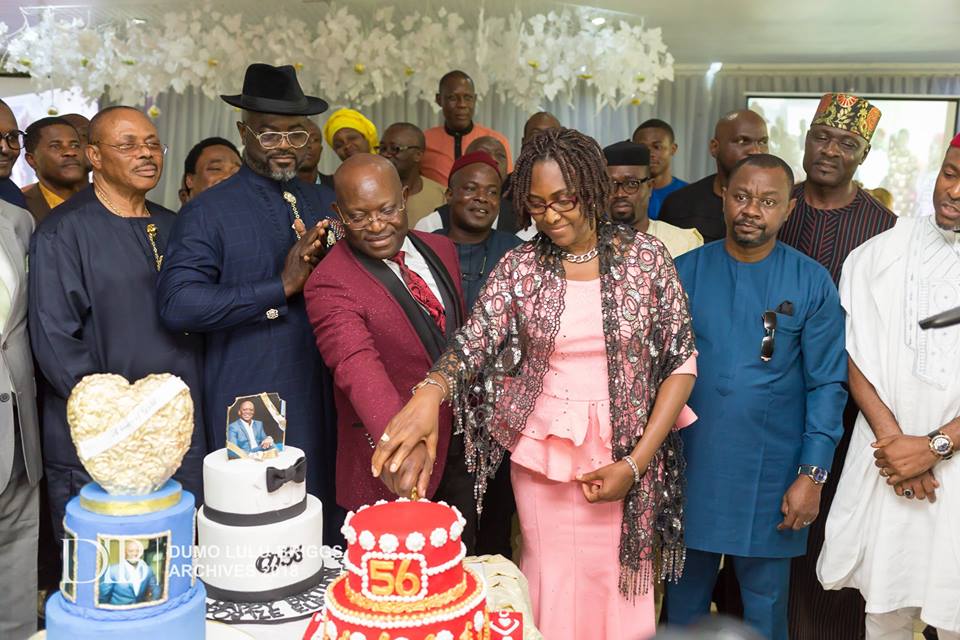 RT. HON. CHIBUIKE ROTIMI AMAECHI JOINS IN THE CELEBRATION OF A LIFE BEYOND BOUNDARIES; APOSTLE EUGENE OGU AT 56
It was an atmosphere lit with euphoric sensation of fulfillment crowned with a heartfelt praise and thanksgiving as a servant of God who doubles as a philanthropic missionary; Apostle Eugene Egwuatu Ogu of the Abundant Life Evangel Mission, celebrated his 56th birthday on Sunday the 22nd day of July, 2018.
The birthday ceremony which took place at the Abundant Life  premises, number 98 Omoi Orosi, hospital road, Port Harcourt witnessed an immeasurable show of love as a conflux of well wishers, members of the public and high profile individuals from across the country, especially the south south and the south eastern regions, graced the occasion in their appreciable numbers.
The natal day ceremony had as its Special Guest of Honor, Rt. Hon. Chibuike Rotimi Amaechi, the Honourable Minister of Transportation of the Federal Republic of Nigeria who was unavoidably absent but was duly and ably represented by his friend and political associate, Chief Dumo Lulu-Briggs.
Speaking on behalf of the Honourable Minister, Chief Dumo Lulu-Briggs reflected on the days when the well celebrated former Governor of Rivers State; Chief Rotimi, joined in a spiritual partnership for service to humanity with the great man of God, and benefited immensely from God's favor thereafter.
While acknowledging the extensive services and the great impact of the Arm of Hope Foundation which was founded by Apostle Eugene Ogu and wife, the Honourable Minister through Chief Dumo Lulu-Briggs, encouraged individuals to keep a clean heart and always imbibe the spirit of love and charity in order to pull the downtrodden from the shadows of life. While referencing the biblical David and how he had a pure heart, he reminded the guests that God is more concerned about the content of human hearts than what we profess outwardly, and advised that it's important for everyone to rid his heart of negativities and evil.
Speaking individually, Chief Dumo Lulu-Briggs recalled the charitable gesture of Chief Rotimi in partnering with the Arm of Hope Foundation to erect a school for the less privileged and described him as a lover of man, and as a man who is always willing to support every cause that seeks to protect people in the society who live in the shadows of life.
Other dignitaries in attendance include: Alabo Bekinbo Soberekon, Rt. Hon. Iyk Orji, Fmr. Deputy speaker Rivers State House of Assembly.  Engr. Samson Ngerrebara, Chairman Free Rivers Development Initiative. Hon. Celestine Akpobari, Lady Nancy Stephens. Rt. Hon. Ike C. Ibe; Fmr. Speaker, Imo State House of Assembly. Hon. Kennedy Ibe, member Imo State House of Assembly. Executive chairman of Obowu LGA, Hon. Chidi. Lady Patience Mbakwe and Obowu traditional council of Chiefs led by His Royal Highness, Eze Godwin Okeke and other respectable personalities.
Highlight of the event included awards of excellence in humanitarian services and leadership given to his excellency Rt. Hon. Chibuike Rotimi Amaechi and another to Chief Dumo Lulu-Briggs for his consistent display of affection and love for humanity.
The event closed with wonderful prayers and expressions of heartwarming appreciations to the special Guest of honor and to all the guests whose presence and patience made the day a success.
Uche Woke
SA Media DLB
22/07/018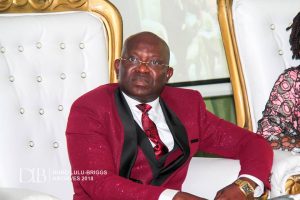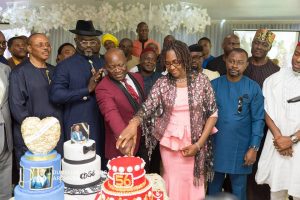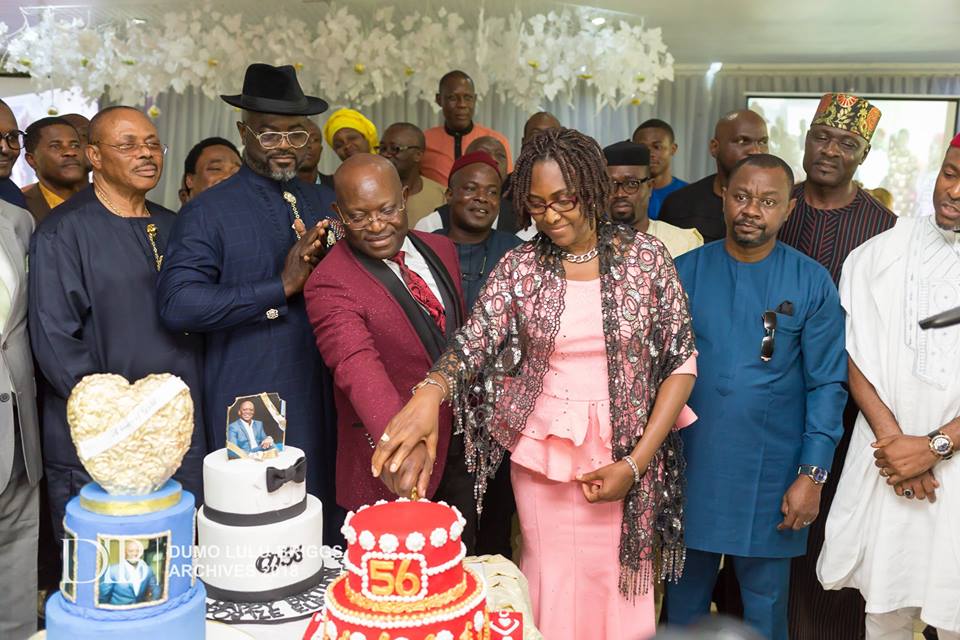 It is with great joy and a sense of satisfaction that I congratulate His Excellency, Dr. John Olukayode Fayemi on his well-deserved victory in the just concluded Saturday, July 14, 2018, Ekiti State governorship election. This victory is a major triumph for our great party, the All Progressives Congress, APC.
I join all our party faithful in the country, the diaspora and well-wishers to felicitate with Dr. Fayemi over this significant victory which reaffirms the strength and popularity of the APC ahead of a nationwide victory in 2019.
I have no doubt that Dr. Kayode Fayemi is eminently prepared for the daunting task of managing the affairs of Ekiti state, having served before as the Governor of the State and recently as a minister of the Federal Republic of Nigeria. He is sufficiently equipped to take Ekiti State to the next higher level. I am sure he will bring his wealth of experience to bear in the state and help to advance the cause of our party and the Nation. I pray God to grant the Governor-elect the strength, good health and wisdom to discharge his duties creditably and successfully.
The result of yesterday's governorship election in Ekiti State has vindicated those who described the 2014 governorship election in that state as a ruse and a stolen mandate. Dr. Fayemi's re-election has exposed the 2014 so-called landslide victory of the PDP as nothing short of barefaced allocation of figures and a rape on democracy.
I commend the Independent National Electoral Commission (INEC) for effectively plugging the fraudulent holes through which massive fictitious figures are allocated as was the case in some states, including Rivers State in the 2015 election. Yesterday's Ekiti State governorship election was an emphatic statement by INEC that the era in which political parties write results in disregard of the wishes of the electorate is over.
I congratulate the National Working Committee of our great party under the dynamic leadership of Comrade Adams Oshiomhole for this decisive victory in its first outing and express hope that the indefatigable leader of Rivers State APC and the South South, Rt. Hon. Rotimi Chibuike Amaechi would be supported in Rivers State and the South South to ensure victory of the APC in 2019.
Finally, and most importantly, I thank our dear President Muhammadu Buhari who despite his very busy schedules found time to boost the morale of members of APC in Ekiti State during the campaigns. Thank you, Mr. President and congratulations to APC.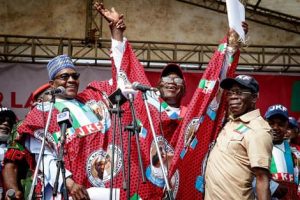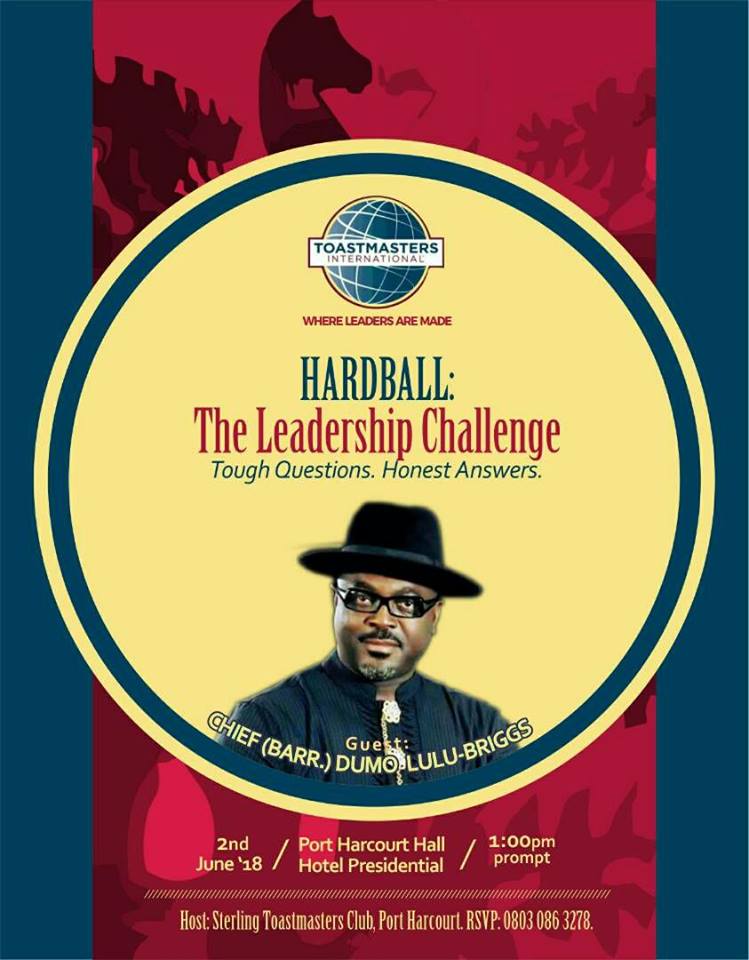 What is your take on the state of leadership in the world today?
People in leadership using their power to forcefully extend their tenures in office for personal gains?
Collapse of conglomerates because those in positions of authority allow greed and deceit to guide their decisions, directions, and actions, disregarding critical principles of leadership like humility, integrity, and authenticity?
If leadership is about inspiring people to attain greater heights, of empowering people to orchestrate their own wellbeing, and of putting checks and balances in place for the advancement of a worthy vision; how are we doing, and where do we stand on these evaluation criteria?
'Leaders Lounge' on Saturday 2nd June, 2018, will explore these concepts and other deep truths about effective leadership. We will ask tough questions about leadership and seek honest answers. And you can come ask hot, no-holds-barred questions on leadership.
See details on the flier.
You don't want to miss this!
 — with Dumo Lulu-Briggs.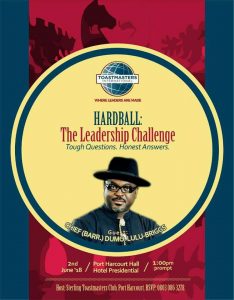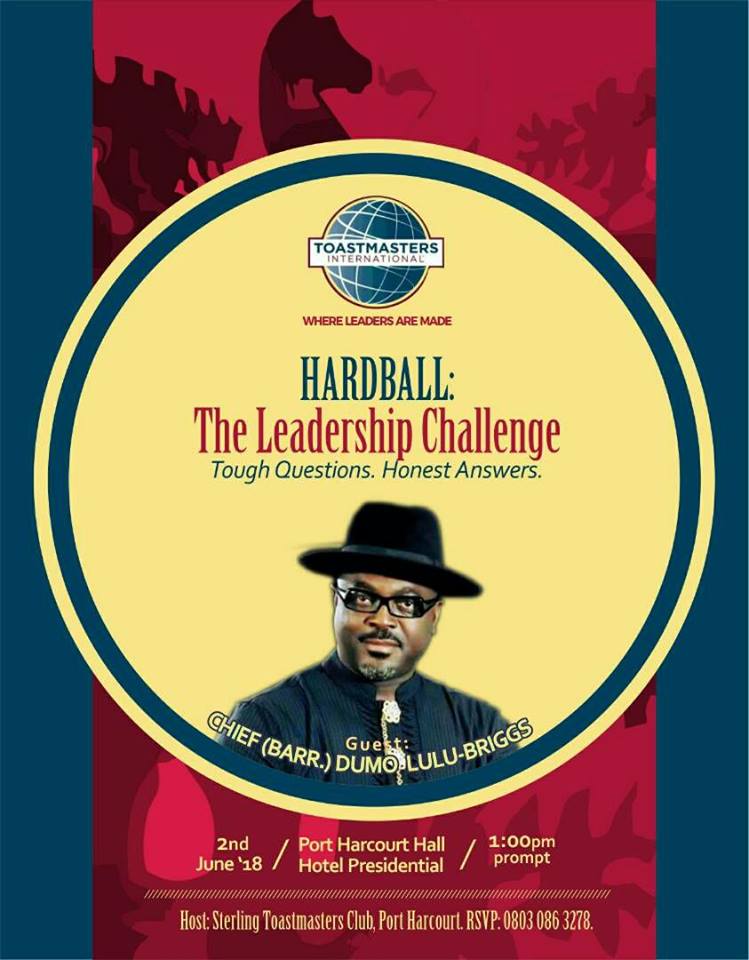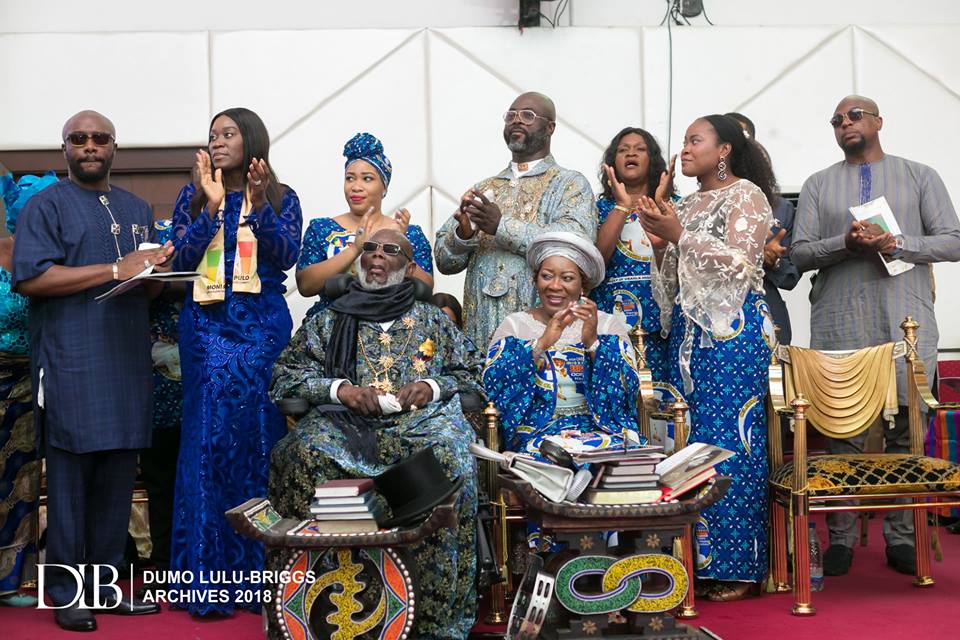 A man who has touched the lives of so many and has forever etched his name into the books of history for all his magnanimity, goodwill and wonderful deeds of charity.
We use this rare privilege to say thank you to a man that is our father. He has been amazing in every way; and we also THANK GOD for keeping him. He is a great man! We love him! we love him!! and we shall continue to love him!!! In another 365 days and 365 days and several other 365 days, we shall continue to give thanks God for his life.
HAPPY BIRTHDAY OPUDA!!!
There's also an amazing woman right next to our father. She is our mother, the very elegant, very beautiful Dr Mrs Seinye O.B Lulu-Briggs. You know when God created man, He knew that man was incomplete and then gave man woman. When God created our father, High Chief O.B Lulu-Briggs, He knew that he would be incomplete without our mother, Dr Mrs Seinye Lulu-Briggs. She is the rock that God gave us. We also say, thank you so much.
To God be the glory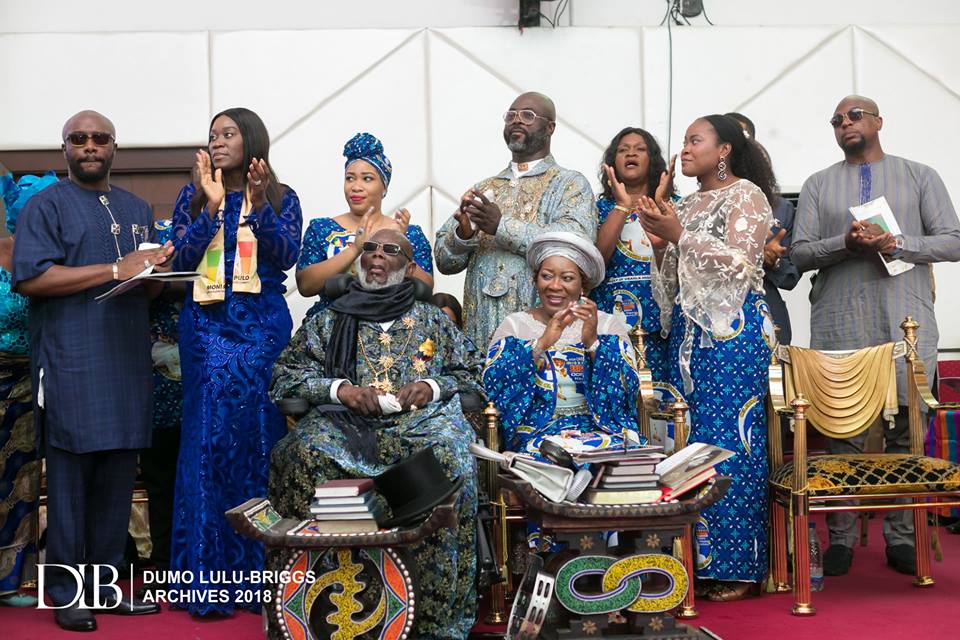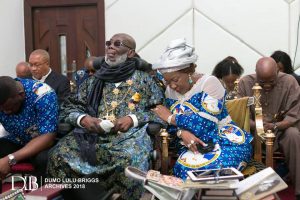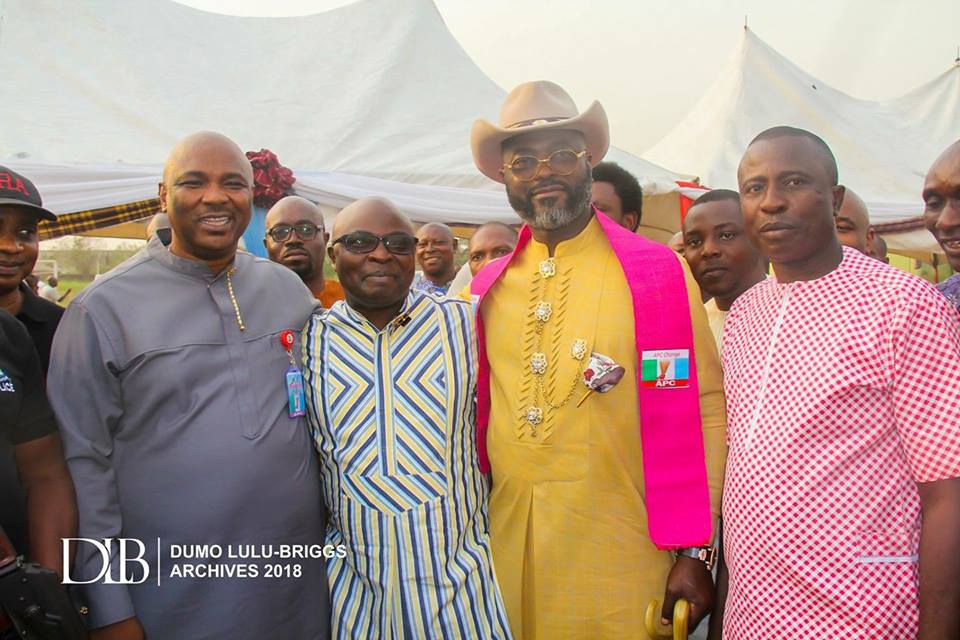 Come stand with Rivers progressives, all who are genuinely outraged by the rapid regression in our Education, Agriculture, security and economy. Come stand with APC, all who truly desire change; let us work unitedly and take advantage of the great opportunities that abound in our great country Nigeria. Let us now part ways with those parochial sentiments that inhibit our chances of growth and development, and make it about ideas.
Come stand with this great party in Rivers State, all of you who seek quality education for your children, affordable housing, business ownership, guaranteed civil liberties, effective justice system and security. Come stand with APC if you seek to have the tools to succeed in this very highly competitive 21st century. Stand with this group of visionary men and women who are determined to lift Rivers State to an enviable height.
Together, let us fight the regressive forces that haunt our collective success. I want to be part of the history that records how Rivers State became great again with the kind of successes that resonate with the signs and symbols of an industrialized world. Come now let us reason and work together in love and in truth.
Together, we shall Change Rivers State for the better!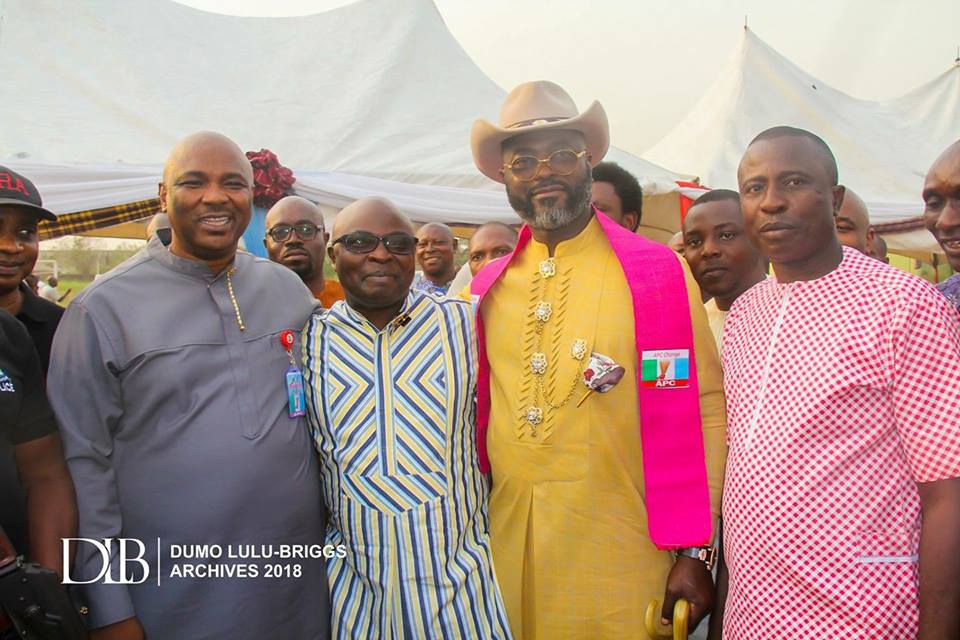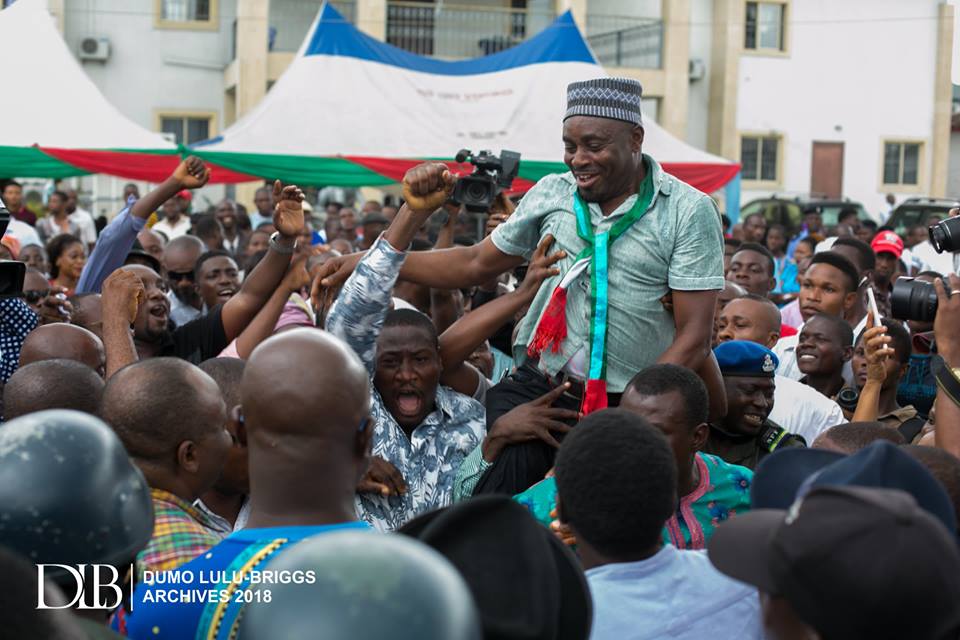 Today, May 12, 2018 marks another significant threshold in our committed effort, as the All Progressives Congress – APC Rivers state, under the distinguished, dedicated, dynamic and undisputed leadership of Rt. Hon. Chibuike Rotimi Amaechi to consolidate our desire towards entrenching true democracy in Rivers State and enthroning a progressive people-oriented government that would ensure that the interest and welfare of our people take centre stage in all our activities.
Following the very transparent and hugely successful wards congresses last week, we again embarked on and accomplished another ground breaking exercise, with the very credible, visibly transparent and extremely successful Local Government Congress in Akuku Toru Local government area, today May 12, 2018.
We are indeed very happy with the conduct of the elections, the convival atmosphere that reigned during the process and the brotherly love that was exhibited by the contestants and all their supporters who thronged the venue of the congress and virtually transformed the exercise into a happy, carnivalesque gathering of one big, United family.
What transpired today has further established the now obvious fact which am sure you all know, that the APC is now the conscience of Rivers State and that this is democracy in action. Everybody took part in this process and everybody is pleased. There is magnanimity and unity of purpose amongst us and I want to state categorically and confidently that in Akuku-Toru local government area we have no issues. You can see that from the mammoth crowd that turned out for the exercise. Delegates were given the free will to exercise their franchise and they decided that they had full confidence in the Executives of the LGA that have represented the party in the past tenure and almost all of them were returned unopposed. The spirit of togetherness was electrifying and you could feel the frenzy of excitment, conviction and belief in the atmosphere. I'm sure that all those who witness the exercise were at some point overwhelmed by the excitment and were very happy for us.
I have no doubts whatsoever that if you are a party person or if for some reason you want to play politics, you would have been completely convinced to want to join the APC based on what transpired during the Akuku-Toru Local government congress today. There was joy and happiness on the countenance of all who witnessed and participated in the exercise and even I must confess that I haven't seen this level of collective unity, harmony and sense of togetherness in Akuku-Toru local government before. Indeed Akuku-Toru local government sent out a clear signal and message today that it is an APC local government.
I remember commenting last week, after the unquestionable success of the wards congresses across the AKULGA that, if for any reason we don't make a 100% because that is always impossible in politics, we will get close to a 100%. That is how people have felt and are now translating their need for a change in Rivers State and Akuku-Toru through their votes and we are going to have it here a 100%.
It is also important to note that while our confidence is unwavering, especially given the courageous and unflinching committment of our party leader, the Rt. Hon. Chibuike Rotimi Amaechi to lead ftom the front and ensure full control and compliance with the party's guidelines in all our activities, I am also not unmindful of the fact that in every large family you expect to have a few issues cropping up in respect to the advocacy for certain interests. This is only natural when matters that are internal family issues need to be addressed, especially in the season of politics like we are in now. But I am fully confident and assured that with the clear foresight and strategic vision of our leader to position the APC as the party of choice come 2019, those issues shall be resolved at the appropriate time and we would come out stronger and face the common opponent PDP with full throttle and wrest control from PDP so that we can begin to put Rivers State on the path of greatness.
I congratulate all those who won their elections as our Local Government Executives in AKULGA. I congratulate my good and peace-loving brothers and sisters from Akuku-Toru for making our party APC proud and ensuring that this exercise was an unparalleled success. We have raised the bar and set down a marker for the next round of politics in the st   ate. Together we shall march triumphantly to victory in 2019.
God bless All Progressives Congress – APC
God bless Rivers State.