DUMO LULU-BRIGGS URGES RIVERS YOUTHS TO EMBRACE SKILLS ACQUISITION
Friday, April 27, 2018 will always be remembered as a historic day in the annals of the serene rural community, Akinima, in Ahoada West LGA of Rivers state, as the renowned philanthropist and business mogul, Chief Dumo Lulu-Briggs performed the formal opening of the Save Our Land Initiative Skills Acquisition Centre.
The Centre, the brain child of Mr. Lemuel Iyalla, founder of Heritage for Life Foundation, is a network whose aim is to support the advocacy for non-violence by building capacity, promote sustainable peace, identify challenging issues in the society and find possible solutions to such issues.
In his opening address, the founder Mr. Lemuel Iyalla, while explaining the inspiration behind setting up the Centre, said that he had noticed a high level of idleness amongst the youths in the community when he was growing up, and realized that what they needed was some form of mentorship to encourage them. This was the motivation that spurred him to engage the community youths positively in order for them to become useful both to themselves and also to the community, while earning a living from an acquired skill.
It therefore became necessary, according to Mr. Lemuel, to set up the skill acquisition centre as his own contribution to the community, since such an establishment would serve as an initiative that would go a long way in engaging the youths pragmatically and also addressing some of the economic, social and political upheavals in the Akinima community.
Describing the ideology behind the Save Our Land Initiative, the founder said that the skill acquisition centre would strive to educate, mentor and build positive trends in the Nigerian Youth, which would eventually lead to a positive and rewarding future.
"As I interacted with the youths in our community, I saw that they had so much potential and I wondered what happened? Where did we go wrong? But all we know or all we have thought of is that they need just a mentor, someone that will show them the path, someone that will guide them on the way to go and that is what we are doing today. We are encouraging the youths and saying to them, that the thing you engage in, those evil things will not profit you in any way. We want to engage them, to let them know they have so much in them that they need to tap into and when they tap into those potentials, they will never regret in their lives; and the society will be a peaceful place, an enjoyable place for all of us", he said.
Recounting how he met Chief Dumo Lulu-Briggs, Mr. Lemuel went down memory lane, noting that though they had both been present in several gatherings in the past without meeting, his first direct meeting with Dumo Lulu-Briggs had been at a function in Lagos and the first words Dumo Lulu-Briggs had said to him on that first meeting were, 'you came to Lagos and you conquered. I will help you'". And that was the beginning of a journey that has spanned many years, Lemuel Iyalla enthused, describing DLB as his benefactor, a man after God's heart and a blessing to his generation.
Responding in his goodwill message, Chief Dumo Lulu-Briggs, who performed the formal commissioning of the Skills Acquisition centre, expressed gratitude to His Royal Majesty Moore Uboe, the Oyiwime of Engenni Kingdom and thanked the paramount ruler for supporting an initiative that will bring development to the people of Engenni.
Chief Dumo Lulu-Briggs said it was an honour to be part of the ground-breaking event of the formal opening of the Save Our Land Initiative Skills Acquisition Centre in Ahoada West, adding that he felt humbled that the people of Engenni found him worthy to commission the Centre, which he noted had the capacity to offer a better life and living to the people of Akinima Community and the entire people of Rivers state at large.
He further stated that all over the world, the progress and development of society thrives on the skills the people possessed and, using China and Japan as examples of countries who have benefited and continue to succeed via the acquisition of skills by their people, urged all to embrace this new and welcome development wholeheartedly.
Admonishing the people to take the pursuit of skills acquisition seriously, Dumo Lulu-Briggs urged them to bear in mind that the acquisition of skills is a sure path towards achieving a stable economy and achieving individual financial independence, which will ultimately transform Ahoada West and Rivers State to the place of their dreams.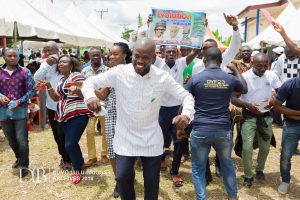 He then hailed Mr. Lemuel Iyalla for his courageous and visionary motivation to set up an establishment that would not only build capacity for the youths but also offer them a lifeline in the mastery of specific skills, empower and transform them into recognized stakeholders, and position them as responsible citizens, whose contributions would go a long to shape the future of Akinima, Engenni, Ahoada and Rivers State.
DLB MEDIA
27/04/2018