KENGEMA OSAKI GROUP ENDORSE DUMO LULU-BRIGGS AS GOVERNORSHIP CANDIDATE FOR 2019
Dumo Lulu-Briggs is the Kalabari 2019 Governorship Candidate for Rivers State: A Communique of the Chiefs and elders council of Kengema Osaki
The Chiefs and Elders Council of Kengema Osaki, a Kalabari political advocacy group at an extraordinary meeting held in Port Harcourt on Wednesday March 3, 2018, considered pertinent issues concerning the 2019 Rivers State governorship election including, but not limited to: the rotation of the governorship to the Riverine-Ijaw; the proliferation of Kalabari governorship aspirants; the choice of a single Kalabari governorship flagbearer for 2019;
The Chiefs and Elders Council of Kengema Osaki, hereafter simply referred to as "Council" carefully considered these issues and resolved as follows:
Rotation of the governorship to the Riverine-Ijaw:
Council noted with concern the worrisome retention of the Rivers State Governorship in the Upland area of Rivers State for twenty unbroken years (1999-2019), which is being perpetuated by the Peoples Democratic Party (PDP) since 1999. (Dr. Peter Odili 1999-2007; Barr. Celestine Omehia/Rt. Hon. Chibuike Amaechi 2007-2015; Barr. Nyesom Wike 2015 to date).
Council emphasized the urgent need for Rivers State to return to the Upland/Riverine rotation principle as enunciated by the founding fathers of Rivers State as a vehicle for mutual coexistence of the component ethnic groups in the state. In this respect, Council commended the Rivers State APC leader, Rt. Hon. Chibuike Amaechi for spearheading the emergence of a Riverine person as governor since 2015. Council called on the Rivers State PDP to revert to the rotation principle as enunciated in its Constitution or face rejection by Rivers people, especially Riverine-Ijaw people in 2019.
Proliferation of Kalabari governorship aspirants:
Council noted with pleasure that unlike previous governorship elections, Kalabari governorship aspirants have not flooded the political space as there is only one person that has openly declared interest in the All Progressives Congress (APC) with rumours of a couple other possible aspirants who are either undecided or merely lurking in the wings.
Council resolved that any Kalabari governorship aspirant that is yet to declare interest in the 2019 elections cannot be regarded as ready and should therefore throw his/her weight behind the only aspirant that has declared for the race.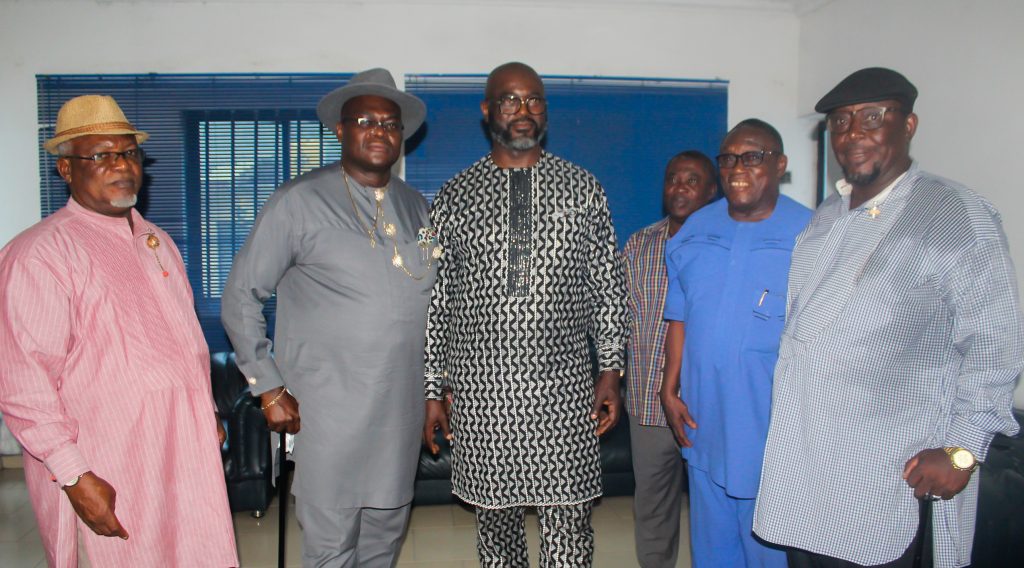 In this respect Council called on all political groups, especially non-Kalabari groups to stop their call for more Kalabari aspirants to join the race at this point. Council frowned at the sudden upsurge by non-Kalabari persons/groups in calling on more Kalabari aspirants to join the 2019 governorship race.
Choice of a single Kalabari governorship flagbearer for 2019:
After thorough deliberation, and considering all other possible contenders, Council resolved to adopt Chief Dumo Lulu-Briggs as the sole Kalabari governorship candidate for the 2019 elections and also resolved to send a high-powered delegation to him to appear before Council to state his readiness for the 2019 challenge.
On Monday April 2, 2018, Chief Dumo Lulu-Briggs appeared before Council and stated his mission for Rivers people and his readiness for the 2019 governorship contest.
After listening to Dumo Lulu-Briggs within the context of all the information available on other rumoured contenders, Council resolved that there is no Kalabari person, for this election, that is readier than Dumo Lulu-Briggs.
Accordingly, Council confirmed its adoption of Chief Dumo Lulu-Briggs as the sole Kalabari governorship candidate for the 2019 elections in order to avoid the pitfall of previous campaigns in which Kalabari was accused of indecision and of flooding the political space with multiplicity of governorship aspirants.
Council hereby presents Chief Dumo Lulu-Briggs to Rivers people and to the leader of Rivers APC, Rt. Hon. Chibuike Amaechi as the most capable candidate to defeat Nyesom Wike in 2019. Council guarantees his undiluted loyalty to Rivers people and to the undisputed leader of APC, Rotimi Amaechi.
Council calls on Rivers people to support Chief Dumo Lulu-Briggs as a level-headed and trustworthy person who when elected, shall ensure uniform development, peace and stability in the state through fairness, equity and respect for Rivers people.
This is signed by:
Chief Bekinbo Soberekon (Leader, Kengema Osaki)
HRH Diamond Tobin-West (Asari-Toru LGA)
Elder Lolo Ibieneye (Asari-Toru LGA)
Chief Enenimibo-ofori B.A. Bobmanuel JP (Akuku-Toru LGA)
High Chief Phillip B. Agu (Akuku-Toru LGA)
Chief Bob Fredericks (Degema LGA)
Hon Abiye Davies (Degema LGA)