Again yesterday God gave me the privilege to reach out to the Widows and Elderly in Abonnema.
Knowing how challenging it can be in experiencing press in an event with such multitude of people as it was during the one-week-long celebration of my father's funeral, I understood that these ones may not have had the feel of the celebration as they may have ought to. You know, it was a celebration that has the right of everyone, and no one ought to be denied of that right. It was a celebration that gave way to saying to the departed, thank you for all the good deeds done us. Why should any be denied of such privilege, no matter how?
It was in this direction I had to reach out to the widows and the elderly. I cannot deny them that right, but have to oblige them that honour in gifting them with Provisions, Food items, Wrappers, and Cash. That through this, they also may have the feel of the celebration and be satisfied that indeed they were part of it all. They are our responsibility, they are the reason God has brought us thus far and well, and it's our duty to fulfill God's purpose concerning them, we cannot be tired of such well doing, we can't.
I, therefore, give God all the Glory for using us to reach out to these ones. Most importantly, the Prayers rendered by them were indeed overwhelming, I was touched and humbled to the marrow, and I say Amen to them all.

I give thanks to God for the success of my father's burial and I am very grateful to everyone from all over the world who one way or another made the burial a success.
There were a lot of talks before we even started, and of course there were also a lot of prayers. The story of the family was everywhere and it looked like it was never going to happen. Remember, our father past on at least some two years and few months ago and we just buried him on the 13th of March. So it seemed impossible. It looked like there was a lot of crisis in the family and we couldn't put the finger on what was going on. But when you know how to pray and invite God into all your affairs, His grace and mercy shall always be sufficient. And that was sufficient, we were able to give our father a befitting passage.
I will of course express my gratitude to everyone in a more elaborate and comprehensive manner but while that waits let me use this medium to say thank you to my beloved Abonnema people, my respected Chiefs, my dear family members; women, men, young boys and girls who all through the weeks participated in all the cultural and customary activities to mark the glorious passing of our beloved Opuda. May God bless you immensely.
I will remain ever grateful to the First Family, His Excellency President Muhammadu Buhari and his beloved wife Her Excellency Mrs. Aisha Muhammadu Buhari who was represented by the wife of my good friend and brother the former Governor of Bayelsa State and current Minister of state for petroleum, His Excellency Timi Sylva; to the former president of the Federal Republic of Nigeria, His Excellency President Goodluck Ebele Jonathan and his loving wife Dame Patience Goodluck Ebele Jonathan and to the ever vibrant Governor of our loving Rivers State, His Excellency Governor Nyesom Ezenwo Wike and members of his Cabinet and other government officials who accompanied him to honor my father.
Thank you to all the clergymen, members of the bar, political leaders, elder statesmen, Royal Highnesses, the media, the general public and of course members of the Central Burial Committee who put in their very best to ensure that we achieved success.
May God bless everyone in Jesus name.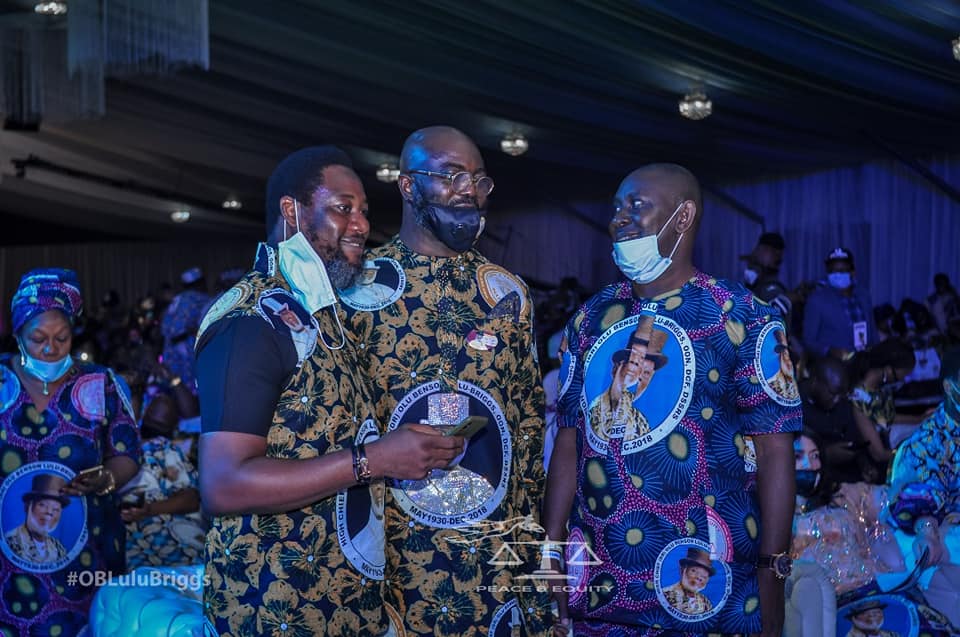 I DEEPLY APPRECIATE THE LOVE AND SUPPORT
My father had a tough life; he never had a formal education all his life but grew to become what he was. And it gladdens our heart to know that when affluence came he embraced the world with the warmth of that affluence, and he gave like giving was out of fashion. And he would always say to you "to thyself always be true, and as day follows night that which will be will be". He taught me that love is not an exchange, so you don't love because you expect to be loved in return. Love is an act of faith; you just do it because you have to do it expecting nothing in return. You are doing it because you believe in God. And from my father's story it is very clear that your background is not the reason you back is on the ground; you can always get moving.
So, on behalf of the Lulu-Briggs family, I thank all of us who are seated here; traditional rulers who are here that have come from Bakassi in Cross/Rivers State, friends of my father who came from Plateau State, the former Governor, Dr. Peter Odili and all those who spoke glowingly of our father; one of my teachers that I have tremendous respect for, O. C. J. Okocha, my friend Senator Magnus Abe, the choirs, the orchestra, Oma Pitch, Mercy Chinwo and all of the wonderful and respectable personalities who came to honor my father today, we can't thank you enough but I will still say thank you so much on behalf of the Lulu-Briggs family.
My younger sister Rachael is here and she spoke very glowingly and I will like to say that we are a family; we want to be a family with everybody, with our stepmother and with all. There is nothing that has happened that we shall allow it to define us. The life of our father must be the only mirror through which we see the world. He was a very forgiving person; a very loving person and so we forgive ourselves and all of us. We pray that we keep the flag flying and that we do not bury the Lulu-Briggs family with our dearly departed father. So, we must come together; we need all your prayers. Thank you and God bless us all.
Chief Dumo O. B. Lulu-Briggs

Today was an eventful day. It started gracefully with an Art Exhibition at the Ebitimi Banigo Hall and ended gloriously with an evening of Tributes, Music, and Drama at the University's Convocation Arena. The awesome words, the soul-lifting songs, and the dramatic performances all made it wonderful and memorable.
I thank the University of Port Harcourt, the Vice-Chancellor of the school Prof. Stephen Okodudu and the various respectable former Vice-Chancellors including Emeritus Prof. Nimi D. Briggs, OON, 5th VC of the school; Prof. Don Baridam, 6th VC; Prof. Joseph A. Ajienka, 7th VC of the school and the Registrar for the great honor done a great man; my father today. This institution has always shown a sense of oneness with my family; truly, the school has always appreciated my family. And in keeping faith in the legacies of my father, I will also be a friend in need with the school.
God bless you all.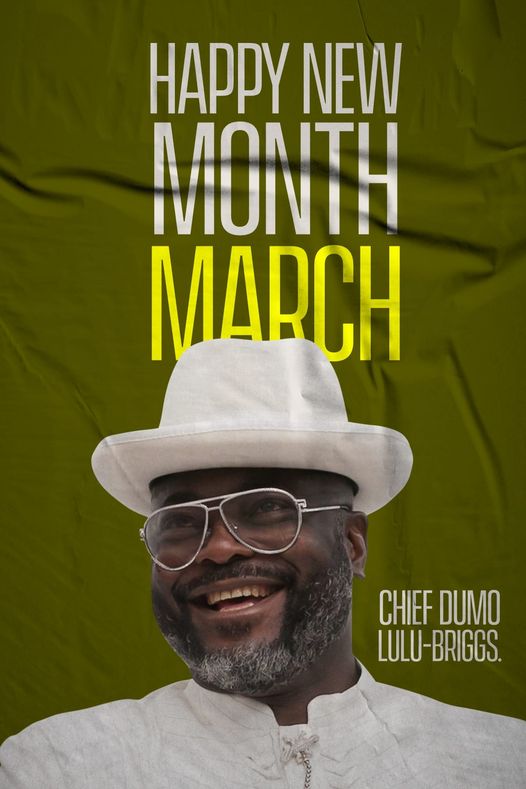 It is quite a symbolic Month in the year 2021. As my father Marches on to glory, the replay of those fatherly memories has become more frequent and creating a sublime nostalgia that is tinged with sadness. But I rise each time stronger and very strengthened by those same memories because they bear the marks of sacrifice and the pathways to honor. Thanks to God Almighty who has afforded us the grand opportunity to honor those memories.
My dear family members and relatives, distinguished friends and associates; beloved Rivers people and Nigerians all over the world, we are grateful for all the love you are graciously sending us this period and we are hopeful that as the activities to pay last respect to our beloved father begins on the 8 with a service of songs, you'll be there all the way. May this March bring you abundant blessings and remarkable testimonies of joy. Amen!
Your friend and brother
Dumo Lulu-Briggs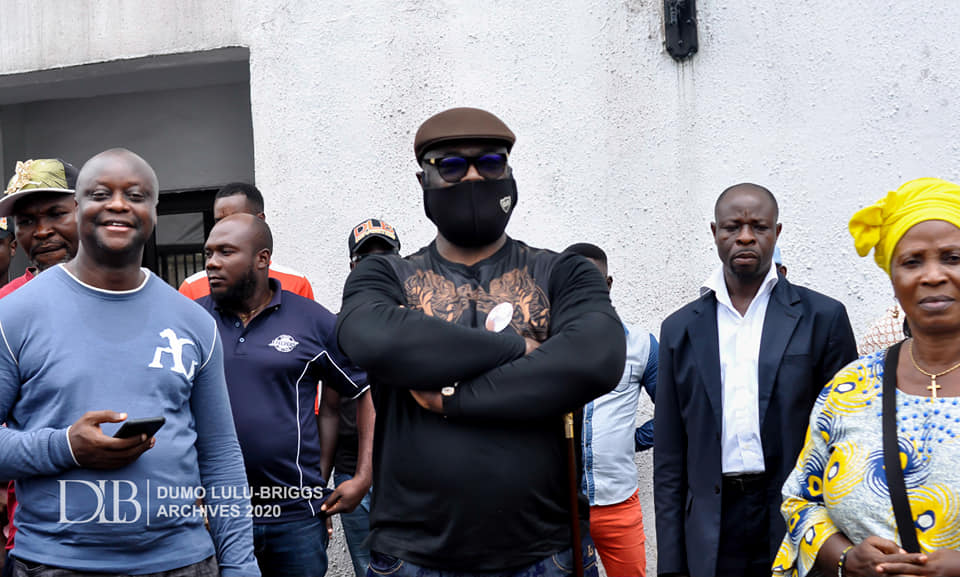 In our commitment to serving humanity, we must not forget our elders. We must endeavor to put smiles on the faces of the elderly men and women who are forerunners in the journey of life and have blessed us with wisdom to live through the challenges.
Providing assistance for the elderly within and outside Kalabari Kingdom is my Father's custom and I am happy to honor him by earnestly striving to continue his legacy in this respect. I thank God Almighty for yet another opportunity to carry out his assignment; for His abundance of blessings and for providing the will and the grace to fulfill the task today.
God bless our mothers and fathers!
Today I joined my family, relatives and Chiefs in Abonnema, Akuku-Toru Local Government Area and in Port Harcourt town to solemnly pay last respect to my brother, Late Hon. Harold Briggs and to commiserate with the family of Late Madam Elekima George who was today buried in Buguma Town, Asari-Toru Local Government Area of Rivers State. Ma Elekima passed on at the ripe age of 96 to the glory of God.
It is however painful that Harold Briggs died very untimely at the age of 48, but as a people of faith, we leave all to the unfailing wisdom of God Almighty. I sincerely wish their respective immediate families a full emotional healing and speedy relief as they struggle to come to terms with the reality of the deceased's irreversible absence in their daily lives. May their souls rest in perfect peace.
Today, without formal ceremonies or celebrations, the Young Briggs House of Abonnema placed me on the century-old Young Briggs stool and presented me to the Oruwari War Canoe House of Abonnema as the Ini-ikeiroari VI. My presentation to the Abonnema Council of Chiefs shall take place soon by the grace of God. The formal ceremonies shall also take place after we have laid my father, the Ini-ikeiroari V, and Paramount Head of the Oruwari War Canoe House of Abonnema to rest early next year. A date shall be announced soon. By the special grace of God, the process of uniting the Oruwari House and Abonnema in general has started in earnest.
I am grateful to God for his enduring grace and blessings. And I am delightedly thankful to my family Chiefs, men, women, and youths who have demonstrated their invaluable confidence in me. I pray for God's divine wisdom and mercy as I commit myself earnestly to the task of offering sincere and productive leadership for the good of my people, to the service of mankind,
and to the glory of God.