Today being the world's Literacy day titled 'Literacy in a Digital World', brings to fore the resonance and the significance of the above statement.
In line with this post-modern progressive thinking, this statement was recently corroborated by Chief (Barr) Dumo Lulu Briggs at an ICT program organized by his Youth Foundation, the Dumo Lulu-Briggs Youth Foundation, (DYF23), organized for Rivers Youths, in collaboration with Google.
The fact that DLB, as he is popularly addressed by his teeming admirers and indeed the mass of Rivers Youths, articulated and co-sponsored this very auspicious and innovative programme with Google, is a clear pointer to the collectively accepted opinion, that indeed we in Rivers state, are blessed with a man of vision and innovation; a man that is in tune with the rhythmic move of industrialization and technological advancement.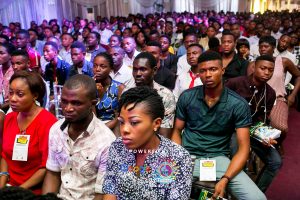 We are witnesses to the fact that today's advancement of world's economies and industries ride on the wheels of digital technology and we can all envision that ICT is the hope of the future's economy.
Chief (Barr.) Dumo Lulu-Briggs understands perfectly that the world is moving through the corridors of smart technologies and as such, we are constantly reminded that it is our cardinal collective and individual responsibility to equip ourselves and the coming generation with the sort of literacy that squares with the global trend and the dynamics of the future not far away.
Emphasizing his very keen commitment and support to the development of Literacy, especially on a day like today, Barr. Lulu-Briggs said: "As we celebrate the International Literacy Day; themed "Literacy in a digital world", today, let's make it our duty to reach out and support those that cannot afford this required knowledge and experience; ICT, Information Communication Technology is the oil of the 21st century ".
With this, it is totally in order to commend and applaud Chief (Barr.) Dumo Lulu Briggs, and the Dumo Lulu Briggs Youth Foundation (DYF23) for charitably working with Google to successfully carry out a workshop for youths on Digital Marketing in our own state, Rivers State.
It's on record that more than 2000 persons, young people drawn from all the Local Governments of Rivers State benefitted immensely from that auspicious skills acquisition program. It's also on record that Chief Dumo Lulu Briggs, encouraged and convinced with the result, achieved from the collaboration with Google so far, has hinted at plans to have more robust events with the capacity to accommodate more persons.
God bless DLB, God bless Rivers State and God bless Nigeria.
Happy World's Literacy Day.
08/09/2017