Nigerians have been advised to embrace ways and acts of rendering quality service to their communities, in order to add greater value to the lives of their people and empower coming generations to be properly equipped to face the emerging developmental challenges of the future.

This admonition was given by distinguished Rivers state legal luminary and front-line chieftain of the All Progressives Congress, APC in the state, Chief (Barr.) Dumo Lulu-Briggs, as he paid his last respects to the departed late Chief Anson A-U Bibu Nke-ee, Father of Hon. Friday Nubari Nkee (a.k.a Fenco International), of the Rivers State House of Assembly.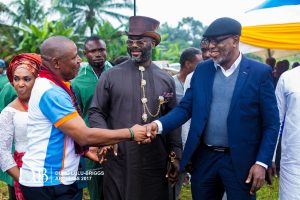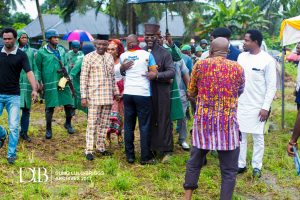 It was indeed a day of solidarity and deep expression of love as Chief Dumo Lulu-Briggs, in the company of his close associates, travelled all the way to the peace loving and agrarian town of Okwale in Khana LGA of Rivers State, to fraternize with the bereaved Nke-ee family on Saturday 16 September, 2017.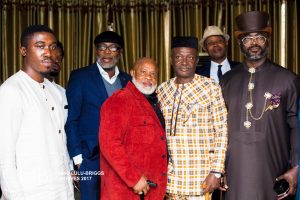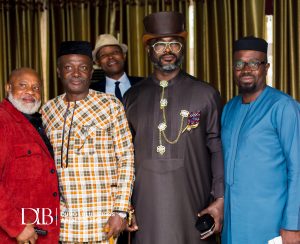 Delivering a brief eulogy at the occasion, Chief Lulu-Briggs described the late Pa Nke-ee as a father figure and role model who impacted his community and the lives of his people positively throughout his long and worthy existence.

"We are here to pay our last respect to late chief Anson A-U Bibu Nke-ee. He is the father of my good  friend, Numbari who we address popularly as "Fenco International" and he has done tremendously for his community"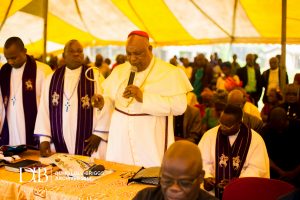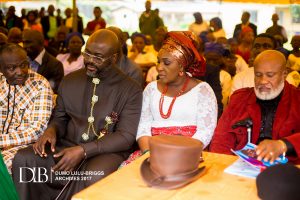 Speaking further Chief Lulu-Briggs observed that though the late Pa Nke-ee had no formal education, his visionary disposition and love for his community motivated him to embrace education as a priority not just for his family but indeed for his community.

"Chief Nke-ee had no formal education but he made sure that all his children, not just his children, but those of even other members of the community went to school.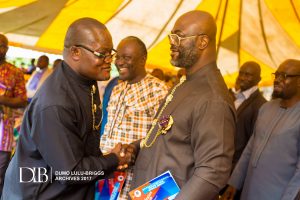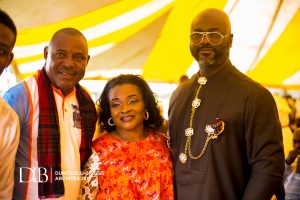 "He understood the importance of education and did so much for his community. As a man who clocked 96 years of age in a world of so much uncertainty, I have no doubt in me that Chief Anson Nke-ee lived a good life. I urge Nigerians to emulate the exemplary life of Chief Anson Nke-ee and render such quality and humanitarian service to their comminities" he enthused.
Describing the funeral event as one that aroused mixed feelings of sadness and joy, Barr. Lulu-Briggs noted however, that the departure of Pa. Nke-ee to eternity, has created a vacuum that will always be felt by his entire family and he will always be missed.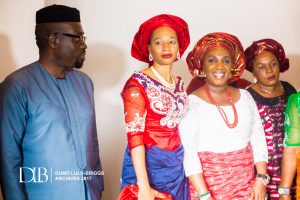 "Today you could see in the rains, how people troopped out to honour a man who had given so much to his community. We had to defy the rains, not just because his son has done well both as a former commissioner, but now as a member of the Rivers State House of Assembly, and we are proud of him, but most importantly, that Pa Nke-ee had done tremendously well for his people and community and lived till he was 96.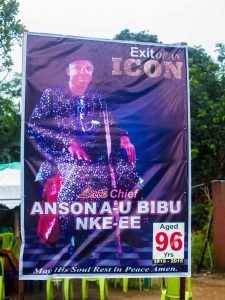 "God honoured  him with long life. God blessed him with fantastic children and a great family and you can see that the entire community is happy. That is the reason we joined them today as they are paying their last respect to a man who had given them so much in life. It is on this note that we decided to come and comfort our brother, Hon. Friday Nubari Nke-ee and his family. That's why we are here today," Chief Lulu-Briggs eulogized.
He then thanked the people for the wonderful reception accorded him and his entourage to the event, and prayed for God to turn the family's grief to joy and bless them abundantly.
Departing from the solemn event in Khana LGA, Chief Dumo Lulu-Briggs and his entourage arrived Port Harcourt and  proceeded to the joyful celebration with the family of former member of the Federal House of Representatives and now Executive Director Marine and Operations, Nigeria Ports Authority, NPA, Dr. Sokonte Davies, on the occasion of their daughter, Lady Odima-a Winston Dagogo's marital journey with Mr. Obinna Kanu, which was concluded on Saturday 16 September, after a colourful Traditional marriage last week, which was also graced by the presence of Barr. Dumo Lulu-Briggs.

A well respected personality in the social circuit, Chief Lulu-Briggs attended the wedding reception where he felicitated with Dr. Sokonte Davies and while  expressing his delight over the successful nuptial ceremony, shared in the joy of the family, even as he wished the newly wedded couple a marital union full of bliss and God's blessings.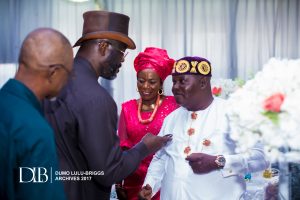 Chief (Barr. ) Dumo Lulu-Briggs was accompanied to both functions by eminent and distinguished sons and daughters of Rivers state.