Saturday, July 7, was a remarkable day for young people in Port Harcourt, the Rivers state capital, as Rivers born renowned statesman and leading political figure, Chief Barr. Dumo Lulu-Briggs, appeared as the guest of honour at a Leaders Lounge, hosted by Sterling Toastmaster Club, Port Harcourt.
The theme for the epic event at the Leaders lounge was: "The Leadership challenge" and Chief Barr. Dumo Lulu-Briggs, himself a distinguished lawyer, a business mogul, a technocrat, a politician and philanthropist, did adequate justice to the topic in his capacity as keynote speaker.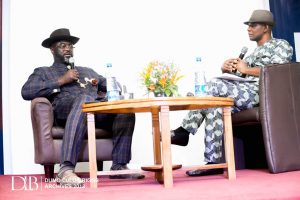 Chief Barr. Dumo Lulu-Briggs was called upon to impart knowledge and wisdom into the life of those present, especially the young people and share highly inspiring experiences from his very robust life as Legal luminary, corporate mogul, entrepreneur and philanthropist, and he did not disappoint his listeners.
In his keynote address titled 'The Leadership Challenge', DLB, as he is fondly addressed, posited that the most important and and yet difficult of all questions that people are often faced with is: 'What is leadership?'. According to him, this is due to the fact that there is no general consensus on what makes a leader, what constitutes the qualities of a leader, if leaders are born or made, the context of leadership and who determines the direction of leadership.
In trying to explain who a leader is He was quick to point out that his talk would dwell basically on political leadership and governance and in that light, referenced the former EFCC Chairman Mrs. Farida Waziri, who said that, 'a leader is one who is involved in the activity of leading others' and 'a leader is one who fosters change and not necessarily one who holds a leadership position'.
He then stated that:
• Leadership is concerned with fostering change.
• Leadership is inherently value-based.
• All people are potential leaders.
• Leadership is a group process.
According to him, the UNDP defines governance as the exercise of economic, political and administrative authority to manage a country's affairs at all levels. It comprises the mechanisms, processes and institutions through which citizens and groups articulate their interests, exercise their legal rights, meet their obligations and mediate their differences.
He further noted that good governance had three legs: economic, political and administrative.
Economic governance includes decision-making processes that affect a country's economic activities and its relationships with other economies.
Political governance is the process of decision-making to formulate policy. Administrative governance is the system of policy implementation.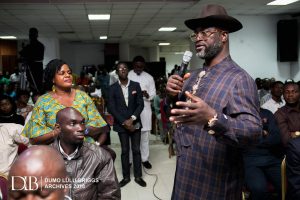 He then summarized the qualities of a leader, referencing the book: The Leadership Challenge, written by James Kouzes and Barry Z. Posner and first published in 1987, which highlights the five core practices common to all leaders, and while suggesting that though some of the aspects may thrive well in the corporate space, a good leader must necessarily:
– Model the Way: where the leader creates standards of excellence and then set an example for others to follow;
– Inspire a Shared Vision: where the leader passionately believes that he can make a difference and envisions the future, creating an ideal and unique image of what the organization can become, even as he enlists and inspires others to key into the vision and dreams, through his magnetism and quiet persuasion;
– Challenge the Process: where the leaders search for opportunities to change the status quo and look for innovative ways to improve the organization by experiments and risks taking, which may involve mistakes, failures and the inevitable disappointments, which eventually serve as learning opportunities.;
– Enable Others to Act: where the leaders foster collaboration and build spirited teams, actively involve others and strive to create an atmosphere of trust and human dignity, strengthen others and make each person feel capable and powerful;
– Encourage the Heart: where leaders recognize contributions that individuals make, rewards their effirts, celebrate accomplishments and make people feel like heroes.
Going further on the concept of leadership, Chief DLB said: 'leadership is a people and value based activity, leadership is dependent on followership. Leadership is contextual because it varies across situations, cultures and societies. All situations do not, will not and cannot require the same leadership patterns, there is no one-size-fits-all leadership.
He further maintained that the problem of Nigeria is not leadership. It is rather the lack of leadership and the attitude of people being led. In his words, 'Leadership plays a role in the advancement of every human society. It is an indicator of progress or the absence of it'.
Laying emphasis on the necessity of attaining leadership at a personal level before advancing to any other level because the foundation of leadership is to lead one's self first, he noted that the importance of attaining personal leadership cannot be overemphasized because, however good a political leadership may be, if personal leadership is poor, political leadership will not make much difference.
At the close of his speech, he admonished his audience saying,
'Let us be driven by our convictions and not by our fears! Let us decide to do only what is right! The time is now!!!'
The Leaders Lounge event had started with the call to order and introduction of the President, Toast Master Otobore Olumoye, by the Sergeant at arms,Toastmaster Monima Georgewill. The president in turn gave the welcome remarks and introduced the Toastmaster topic of the day and also the word of the day which was: EPITOME
The event was anchored by Toastmaster Nkwachukwu Njoku, who led the national pledge and the Toastmaster promise, introduced his team and invited each member to explain their roles.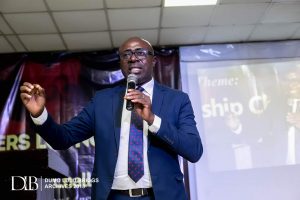 Prepared speeches were given by Toastmaster Monima Georgewill on FAILURE IS SUCCESS and Toastmaster Otobore Olumoye on WHAT HAPPENED TO YOU?
The table topics which came next was anchored by the Toastmaster Nkwachukwu Njoku who called upon members of the audience to address the topics.
The table topics handled today are:
-Leadership is a challenge that is enormous unlike any other challenge of life.
-Oprah Winfrey once said, "Excellence is the antidote to racism and sexism.
-You don't have to be great to get started,you have to get started to be great.
-Man must put an end to war or war will put an end to man.
-Life is sweet. The purpose of life is defined by you. True or not???
The audience, including the highly cerebral and well respected legal luminary, Barr. Zubby Nwuke, did exceptionally well in addressing these table topics, which they discussed extempore.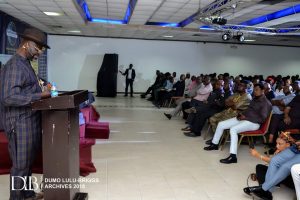 This was then followed by the Leaders Lounge Keynote address and a special, no-holds-barred, interactive session where Chief Dumo Lulu-Briggs not only discussed his humble beginnings as a child in the heart of old Port Harcourt town, but also offered very useful and illuminating insights, tips and admonitions on leadership and governance, business successes and philosophy of life and living.
The highlight of the event was when the Special Guest, Chief Barr. Dumo Lulu-Briggs offered to sponsor 20 females and 10 males to be members of the Toastmasters club. The club executives were sincerely grateful and expressed their profound gratitude.
The Port Harcourt Hall of Hotel Presidential, Poŕt-Harcourt, where the event was hosted, was filled to the brim with an enthusiatic crowd of mostly young people and was attended by some distinguished guests from the corporate, academic and business circles; including; Mr. Aderemi Akeem, Dr. Ikedife Uba, Mr. Precious Tamunotonye Batubo, Mrs Oby Njoku, Mr Solomon Ikegwuru, Mr Adamu Yusuf Muhammad, Mrs May Ikpeme and Mr Tiamiyu Kehinde Akeem, amongst others.
Toastmasters club was founded by Ralph .C. Smedley in Illinois, USA. It was borne out of the desire to teach men how to speak, conduct meetings, plan programmes and work in committees. It was established on October 22, 1924 with Ralph .C. Smedley as both the President and Secretary. It has its headquarters in California, USA.
The Sterling Toastmasters club is Located in Port Harcourt, Rivers State and holds her meeting in Hotel Presidential on the 1st and 3rd Fridays of every month. The essence of this club is to equip people with leadership and communication skills. The club encourages people to speak and communicate effectively with people in their environment.
For us young people, who witnessed the event, it was an amazing experience to encounter a man like Chief Dumo Lulu-Briggs, whose personality has become legendary as the epitome of a highly successful corporate mogul and yet was filled with so much humilty and exuded so much simplicity that was simply breathtaking as he mingled with everybody and told his touching life story of 'rags to riches' with candour, honesty and heartfelt sincerity.
It was a wonderful learning curve for us to finally come face to face with the mercurial and quintessential Chief Dumo Lulu-Briggs, at the Leadership Lounge, all thanks to Sterling Toast Masters Club, Port Harcourt.
#DLBTheManOfThePeople
~ Isosiya Benson and Salome Chiboka