THE KALABARI TRUE PATRIOTS GOVERNORSHIP ENDORSEMENT FOR 2019:
I was greatly honoured on Monday 5th March 2018, when members of the Kalabari True Patriots visited me and handed over a communique where they had unanimously decided to endorse me as their Kalabari son to contest the 2019 Rivers state governorship election.
It was a humbling experience for me and I praised the courage of these brave Kalabari sons and daughters and expressed gratitude to them for finding me worthy of their endorsement.
I was particularly happy that the Kalabari Students Union was duly represented among the groups that came and that the 'Kalabari True Patriots' midwifed the whole process. I feel much honored that as a Kalabari man; as a Rivers man, they found me worthy of this very high responsibility.
I say it is a high responsibility because this is asking for the highest office that is available in the land. I almost for the first time in my life was unable to find words to give expression to my feelings, given the enormity of the responsibility attached to the call and the deep recognition that I have been given by young people from my own ethnic extraction in Rivers State.
I was indeed overwhelmed that Kalabari youths cutting across all shades of political divide in Rivers state came together for this purpose, subjugating their different political inclinations to identify with just one person, who perhaps belongs to a different political association. So, it's an enormous sacrifice that these youths have made already.
I equally used the opportunity of the visit by the Kalabari True Patriots, to thank the leader of our great party, the All Progressives Congress APC, Rt. Hon. Chibuike Rotimi Amaechi who has said that the governorship should go to the Riverine. In the APC we are united under one Supreme God, one leader, one party and with unity of purpose, I know that we are going to have several victories. So, I thank him for that resolve that distinguishes him as an unparalleled statesman.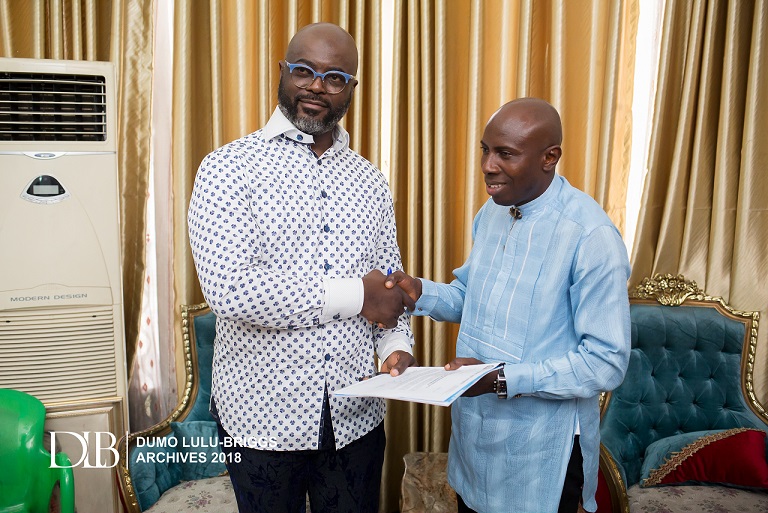 I also made it clear to them that Kalabari are not the only qualified people in Rivers state and that every Rivers person that meets the requirements of our Constitution is qualified to become governor. But i reminded them also that our founding fathers had devised an ingenious method that has worked well for us; that ensures that we live together harmoniously and so it is therefore noble that a notable personality from a major ethnic nationality; the Ikwerre Ethnic Nationality is saying that the governorship has resided in the upland since 1999 and he believes, he thinks, he wants and he is going to fight to ensure that it goes to the Riverine.
That is the mark of greatness which our leader Rt. Hon. Chibuike Rotimi Amaechi has displayed.
I want to use this opportunity therefore, to thank the members of the Kalabari True Patriots for the honour done me with their endorsement and also assure them that I will always stand by what our party and indeed Rivers people eventually decide on the matter.