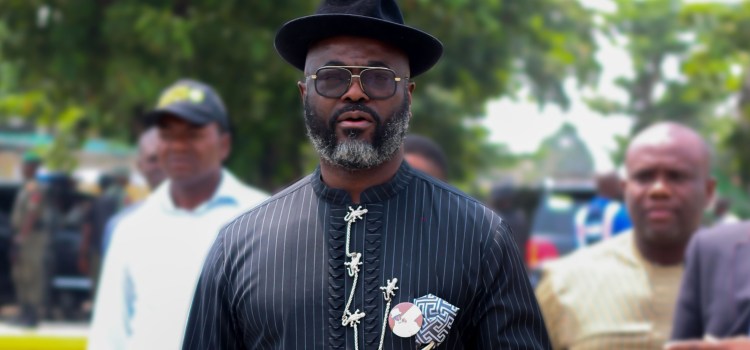 My dear fellow compatriots and Rivers people, I welcome you gladly to this new month of May. Remember, it's still a year of possibilities and truly every new month heralds new possibilities. Permit me this day to greet you with a message that draws from my undying passion to see a return of that social system that supported the dreams and aspirations of our fathers and mothers; every Rivers man, woman and child.
I do believe that we all understand the extent of our collective fortune and can also relate with our existential problems as Rivers people. Yes, Rivers State is blessed and it's wonderful to behold that even in our diversity, we remain people of a common history and future, bound together by a shared sense of duty to our base of treasure. So, whatever happens to one happens to the other.
While I recognize that we are each driven by different ideas of how that duty can be fulfilled, let me remind us again that history is not made by men and women who do nothing; history can only be made by men and women who take the right and necessary actions. We all need some true change but the change can only happen if you replace the "self" with the 'We"; when we all embrace and advance the "WE" Agenda' philosophy which is about Putting People First.
The "WE" Agenda breaks political boundaries and demands our collective commitment to the message that we all matter. This is the time to speak truth to power; to tell those who need to hear that you matter and that things must be done differently. We are committed to erasing the politics of bitterness and putting down that of hate. And it has to start from you recognising how important it is for you to equip yourself as a voter and prepare to participate in politics and governance.
God bless you and happy new Month my people.
Chief Dumo Lulu-Briggs.
Chief Dumo Lulu-Briggs has joined the 2023 governorship race in the oil rich Rivers State. The Kalabari-Ijaw born oil mogul and philanthropist made his intention known this Friday while talking to journalists at the Port Harcourt International Airport. He was arriving from Lagos after receiving an award of excellence in the oil and gas sector from Forbes
With so much optimism, Chief Dumo Lulu-Briggs, said he will run an administration that caters for the aspirations of all Rivers people, saying that the incumbent Governor Nyesom Wike will be delighted to have someone like him take over governance.
He promised to run an all inclusive government of all Rivers people and change the narrative from an oil dependent economy to a state that flourishes in education, manufacturing, tourism and agriculture. This he said will create a lot of employment for the youths.
On the clamour for a riverine governor, Chief Dumo Lulu-Briggs said that although he is running on his proven competence and character, it will be proper for Rivers-Ijaw to produce the next governor of Rivers State, promising to develop the entire state when elected.
"Registering with INEC is a precondition to determine our future and the future of the coming generation. If we must form part of governance, and if we must exercise the legitimacy of demanding our rights as citizens of the Republic, we must get our permanent voters card."
It is an indubitable fact that as an electorate, you have no voice to decide the kind of leadership you want if you do not have the card to vote during elections. Indeed, the substance of your citizenship is mainly imbedded in your ownership of the voters' card.
And it is for the stated reason that the ever conscious and patriotic Rivers politician, Chief Dumo Lulu-Briggs, advises the general public to utilize this chance as provided by the Federal Government to register and gain their franchise.
"We can't continue to sit back and complain about bad governance; we must all be active participants in this project of nation building. Yes, we have reasons to be indifferent to political matters but what essence can we attach to our existence in a sociopolitical formation if we can't exercise the tiniest bit of faith in our system? Time to do away with apathy is now, time to restore our faith in our fatherland and rekindle our hope for the future is now. Go now and register, your voters card is your voice!" Dumo Lulu-Briggs advises.
Uche E. Woke
SA MEDIA DLB
He is a result driven person with a high level of entrepreneurial spirit. He is positive about life and believes that everyone has something to offer.
For Rivers State, he believes that opportunities abounds; hence, whoever is given the chance to lead must explore individual capacities and create an enabling environment for businesses to thrive.
He is a youth development advocate. For him, a society without quality youths is on a very slow ride to development. He considers ICT as one of the future's paramount sources of revenue.
So, he will do the following:
1. Explore the environment for alternative sources of revenue;  with focus on agriculture, entertainment, tourism, etc.
2. Revamp our educational system to include vocational trainings, Guidance and counseling centers for character reformation through career guidance and discouragement of maladjusted behaviors; drug abuse, other social vices, etc.
3. Discourage criminality and make it financially unattractive by returning value to education and dignity to labor. He will create a society that rewards educational labour and commitment to sound behavior and honesty.
NB: This is in fulfillment of one of his prominent slogans 'Take away the guns and replace them with pens'.
4. Device avenues for skills acquisition and capacity development and create opportunities for youths to participate in all sectors of the society.
5. Give priority to Information and Communication Technology by engaging experts and creating openings for massive participation in specific computer science programmes.
6. Emphasize the need for nurturing the environment through developing effective means of tackling environmental pollution and enhancing the beauty of the environment.
Finally, Chief Dumo Lulu-Briggs believes that the state is a contractual creation that is purposed basically for human safety and comfort. Governance should therefore be informed by such a philosophy that focuses on the pursuit of happiness. Man must have the society where he can freely live in peace, experience joy and enjoy the good things of life as long as his actions don't contravene the laws.
Leadership must be about service to humanity. All classes within the society must feel the impact of governance.
©️U_2018
An Ikwerre traditional adage says; give a good man salt meant for the community during raining season and watch how he jealously protects it with his life.
The search for a true servant-leader will soon anchor.
Honestly, something is not right about Rivers State presently, it is the reality that stares us all on the face. The opposite political family that we know does not seek good life of it's citizens and today's politics as we know does not appear as what we envisaged. Indeed, it has been debased, nauseating and repugnant. which is why good people, savant-leader like High Chief Barrister Dumo Lulu-Briggs should be vested with the noble course of fashioning out the constitutional order for the people.
This is my personal opinion, call me petrifying and derogatory names I will only give you one of my best I-don't-care winkes.
High Chief Dumo Lulu-Briggs, the Rotarian, the downtrodden delight and hope; and the embodiment of the key essentials of a remarkable leader is the reflective anchor.
A devoted youths capacity development addict who is unflinching in taking decisive very touch decisions. Has empathy, guiding subordinates through challenges,  he is always admirably focused, persistently planning ahead and most importantly is his unquestionable commitment to changing the fortunes of his dear Rivers State. His disposition belies the Dumo Lulu-Briggs that has a blunt steel character and has never being afraid going against the current of time.
Unlike most politicians who lack convictions of a stable society, Chief Dumo has kept faith,  and is faithfuly serving to implement those critical angles of restructuring. A man with a large heart,  the Ikwerres call him "Badu Ohna"- man of the people. He has the memory of the Fox – he never forgets a promise. He is highly schooled in public administration and valuable governance.
Experience, not necessarily  age can be of benefit. But Dumo is combining both for the craft of the State.
Chief Dumo fears an eminent revolution of the oppressed and deprived in Rivers State. To him, it is delusional to think it can't happen when unemployed youths and the indigents are trampled upon on daily basis by the present government. But is this what has galvanized his social commitment to the poor and needy?. Are his economic and social policies more propelled by enlightened self interest or self preservation?. His concerns looks unique and genuine, considering the passion, with which he tackles the sentive issue of job creation. To a very large extent, the consequences might have also pushed him to continuously and tirelessly work at bettering the lot of the poor and physical development.
The empowerment scheme for the less privileged within the under-developed communities of the State is also informed by his compassion and a perspective fear of what might be, if their situation, alienation and deprivation are not addressed.
Dumo once said,  "violence can generate through gross negligence, it may not be religion, but obviously between the rich and the poor and the rich will be judged by the quality of clothes he wears, the kind of house he lives, the class of cars he drives and the environment where he lives". To him, it is a very frightening future if the life of the rural and urban poor is not improved upon.
Let's prepare the ship and her captain for sail.
– Sir Rowland Orlu wrote from Port Harcourt
In an article published by his Special Assistant on Media and Publicity, Mr. Emmanuel Uche Woke, Chief Dumo Lulu-Briggs was described as a forward looking gentleman that is supremely given to futuristic concerns and a constant drive for solutions to societal problems.
He stated that he is a man that is firmly resistant to petty distractions and looks beyond menial industry when it comes to his vision for the younger generation. On his driving philosophy, Uche said that one of his cardinal political philosophies is that the realization of a better society depends on the level and quality of investment made in the younger generation. That as long as life is transcending, the society must have people equipped enough to fit into the shoes of the great predecessors. He noted that Dumo believes that if leaders leave the successors with weak hands and empty minds, the society will die.
On education, he briefly narrated part of Lulu-Briggs' stance which is that education curriculum must be reevaluated, rejigged and expanded to include practical, feasible and labour rewarding study in ICT which he describes as the oil of the future.
Concerning man as the purpose of governance, Uche Woke who is the spokesman of Chief Dumo Lulu-Briggs wrote that he (Dumo) believes that man is the central focus of politics and governance. He stated that Dumo enjoins Political Players to dignify the political system by paying real attention to the language and needs of the people and refrain from all decisions and acts that demean them.
A more thrilling part of the informative article which evokes the sense of social advancement and civility is the part where he stated thus: "DLB considers the individual's right to liberty and pursuit of happiness as a moral boundary that must never be violated if those in power must retain their legitimacy. DLB strongly opines that man's comfort must be made the supreme target of governance.
Chief Dumo Lulu-Briggs has a picture of yesterday, embraces the dynamics of today and explores all for the betterment of
tomorrow
." he said.
Crystalline Media, an online political news outlet which has been on a profiling mission to discover the best man for the job at the Bricks, had obtained this informative article which spored her to make further findings on the personality of Dumo Lulu-Briggs. Responses from old time friends, members of different political parties, people of the upper, middle and lower classes alike, all vented their opinions about the man Dumo Lulu-Briggs. A prominent member of the PDP from Obio/Akpor LGA of Rivers State, who pleaded anonymity said that Chief Dumo is an industrialist with business links in the USA, UK and all the major African, Asian and Arabian countries.
He described him as a well exposed man with sufficient touch of modernity; a dynamic technocrat with enough experience in growing the economy. "I have followed this man for years and I must say that he is very exposed and has the experience and the capacity to grow the economy. He has big dreams, he has passion for social development, he loves the youths and truly believes that they are the future, he doesn't segregate, if he did, I won't get close or gain anything from him as a PDP man. Honestly, my party the PDP will be glad not to have him as a contender because those who have benefited so much from him are scattered around, he enjoys support from all the parties. With Dumo Lulu-Briggs, people will not care about party differences, they will simply follow him. A lot of us had no choice but to betray him the other time, and we are yet to recover from the torture of our consciences. But the forces at play then are different from the realities of today, so, believe me if Dumo enters the race, it's going to be different" he said.
A lady; an APC stalwart who also pleaded anonymity declared that a Rivers State under the stewardship of Dumo Lulu-Briggs will be the best thing that will happen to women in Rivers State. She recalled the amount of hospitality and goodwill they received from Dumo when they paid him a courtesy call in Port Harcourt. "I won't forget the day that we met him in Port Harcourt; I have listened to pastors but I can't remember any of them referring to widows as the wives of God. He called the widows the wives of God and I could imagine the amount of regard he had for the widows. He didn't hesitate to release some huge sums for the widows. He also took care of the old amongst us; in fact, he was identifying women in various categories and was reaching them according to their needs. He is such a sensitive and selfless man."
In our quest to further authenticate and balance our findings on Dumo Lulu-Briggs, we sought to meet with a Royal Highness and we were lucky to have the audience of a prominent Ikwerre king who started by giving testimonies of his dear father, High Chief O. B. Lulu-Briggs. "First you need to know that that boy is a good boy today because he listened to his father and followed his footsteps. O. B. Lulu-Briggs is my friend, I can tell you for free that he is a man who derives joy from others happiness. His son is like him. I hear how he goes to old people's house, orphanage, churches and to the less privileged and gives them financial aid and other material assistance. I hear how he promotes skills acquisition and these things are exactly the acts of his father. So, he is representing his father well. And that has been my wish for my own children; I expect them to represent me well".
Crystalline Media has done an extensive finding on the profile of Dumo Lulu-Briggs, and it's okay to say that the Chief meets our expectations for progressive leadership. We shall proceed to making more findings about others and continue to share with the public.
©Crystalline Media 2018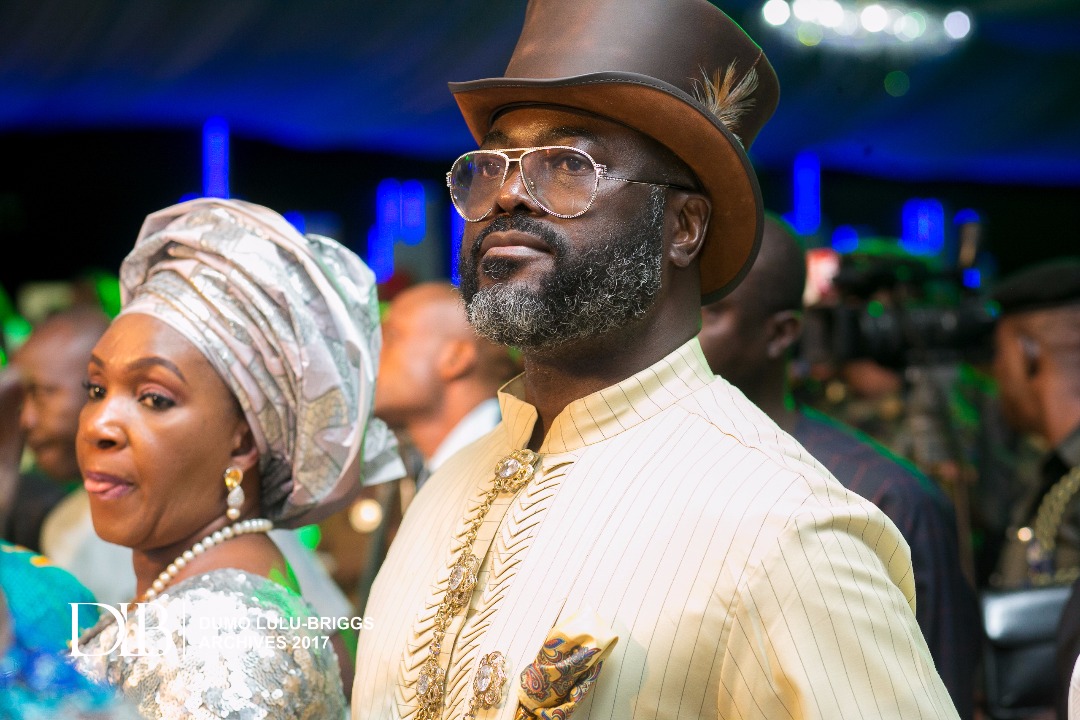 It is not out of place to describe Chief (Barr.) Dumo Lulu-Briggs as a rare personality on account of his exceptional ability to perform as a topmost businessman, grassroots politician and celebrity. Dumo is an all-rounder that achieves excellence with so much humility and easy.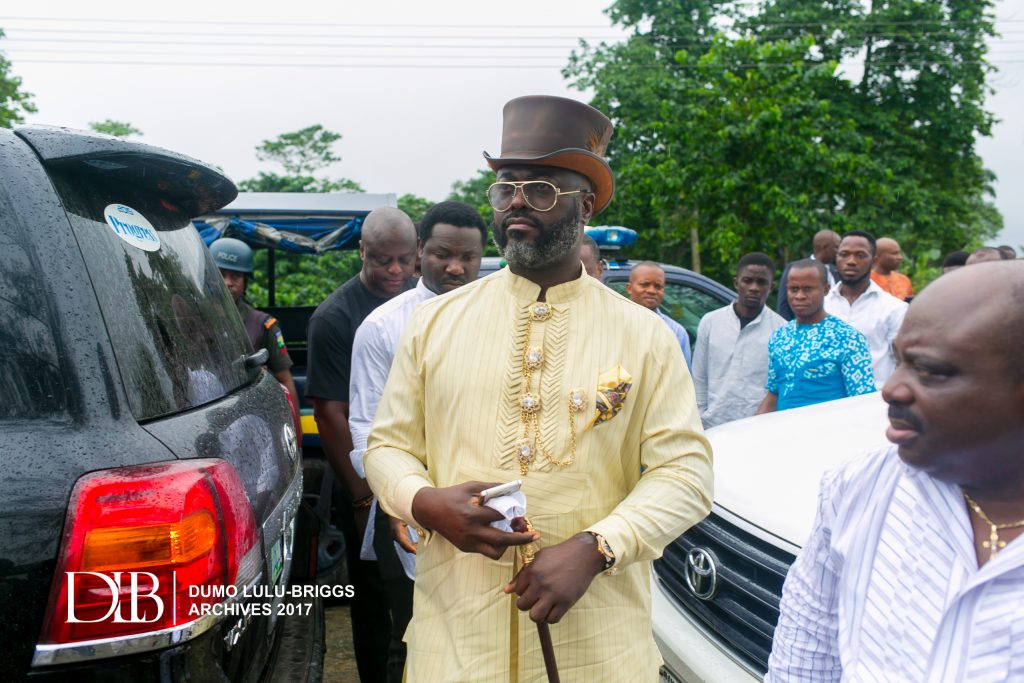 In one week, the Chairman and Chief Executive of several blue-chip companies and Chieftain of the All Progressives Congress (APC) could meet with his partners in London, preside over Board meetings in Lagos, hold political meetings in Port Harcourt and his hometown, Abonnema and still finds time to honour social functions.
Our camera lens captured recent social activities of this Rivers State born philanthropist.
Chief Barr. Dumo Lulu-Briggs attended the thanksgiving Service in honour of the Managing Director of the Niger Delta Development Commission, NDDC, Mr. Nsima Ekere at the Council premises at Ikot Abasi Local Government headquarter.
SENATOR DAISY DANJUMA CELEBRATES 65TH BIRTHDAY IN STYLE
Senator Daisy danjuma, wife of General Theophilus Danjuma (Rtd.) recently celebrated her 65th birthday at the Eko Hotel and Suites, Lagos.
Some face of celebrities at the bash: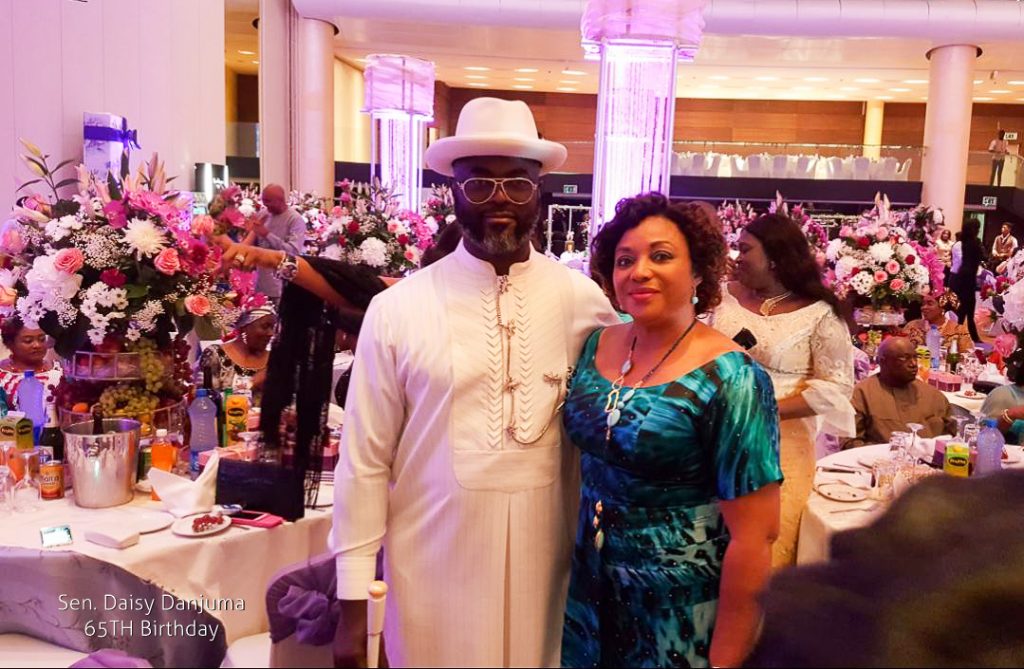 The All Progressives Congress in Akuku-Toru LGA, on Saturday 29th July, 2017, conducted the APC STATE-WIDE CONGRESS, meant to elect delegates for the party's forth-coming National delegates Convention.
The Congress which witnessed the presence of party chieftains, Party faithfuls, INEC observers led by Ajiwa Adeye, DSS, Police and Independent observers was peaceful, hitch-free, and successfully conducted. The Media was also handy to cover the event which lasted amidst a heavy downpour.
The Congress, held at the AKULGA multi-purpose hall, saw the emergence of Chief (Barr) Dumo Lulu-Briggs, Madam Ngoba Karibi Whyte and Chief Dabo Dappa as the elected delegates.
Speaking on behalf of the elected delegates, Chief (Barr) Dumo Lulu-Briggs thanked everyone for their support in making the congress run smoothly and above all the trust reposed on them the elected delegates to represent the LGA at the National Convention; promising that they (the elected delegates) will serve to the best of their abilities. Chief Dumo Lulu-Briggs reiterated the fact that as party members, their first responsibility is building the party at the State level under the leadership of Chibuike Rotimi Amaechi. According to him the new narrative for him is "one God, one party, one State, one leadership and all round victories."
The exercise, conducted by the APC Delegate Convention Committee was led by Peterside Godwin as Chairman Returning Officer, Allwell Brown Ibifama as Secretary, and Joyce Ali as member; while Hon. Dabiri Tubotamuno, a member of the statutory delegates anchored the congress. Other statutory delegates also present at the congress include Hon. Nicholas Ikiriko (secretary), Hon. Fredericks Alalibo (member).
Congratulations to the newly elected State-wide APC Delegates.
DLB MEDIA
29/07/17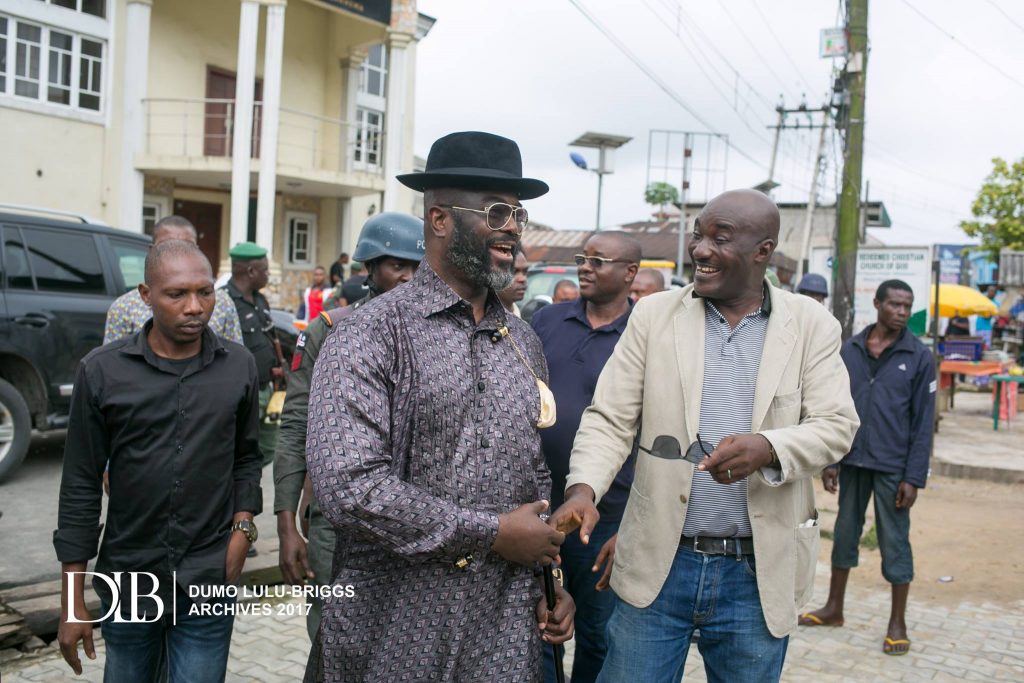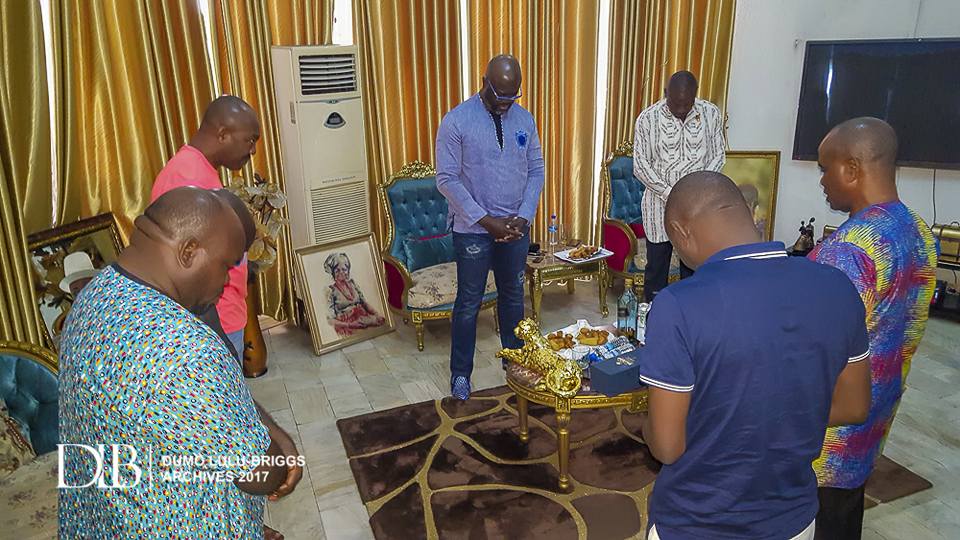 In a move to familiarize with APC leadership in the Senatorial Districts, the APC LGA Chairmen of Rivers West Senatorial District Local Government Chairmen of the party met with Chief Dumo Lulu-Briggs on Saturday 8th July, 2017, to deliberate on the ways of working collectively to present the party in the Senatorial District of the State, as an alternative to the governance of the State in 2019.
The meeting centred on ways of fostering the unity of the party at the grassroots.
In their separate speeches, the Chairmen pledged their unalloyed loyalty to Rt. Hon. Chibuike Rotimi Amaechi the super Minister of Transportation, as the leader of the party in the State. The meeting passed a vote of confidence on the party's leadership at the State, Senatorial District leadership level and the style of quality leadership adopted by the Ubima born history making politician.
Responding, Chief (Barr) Dumo Lulu-Briggs thanked them for being timely in attending the meeting. He informed them that the party's victory at the Election Petition Tribunal which aroused the hope and trust that the party is waxing stronger in Rivers East and South-East, will be replicated at the Court of Appeal and advised the Senatorial district party Chairmen to open their arms wide to receive decamping members from other political parties. He also added that regular meetings should be convened at the local Government, wards and units to discuss issues affecting the party and address them squarely and report unresolved issues to the State Executive arm through the proper mediums of the party for quick resolution. Assuring them that this kind of feedback mechanism will further strengthen the existing synergy in the party and will as well serve as precautionary measure to forestall disunity among members. He further reiterated the importance of leaders at the Senatorial level, to always put their communications lines open for proper dissemination of vital progressive information from members as it will serve as a vehicle to reinforce the confidence of the followers with the assurance that his own communication lines are open for contact on ways of moving the party forward.
The Rivers born business tycoon, advised the Chairmen to encourage, mobilize and monitor members to register in the on-going INEC Voters Registration at the Local Government Council Headquarters close to them.
Finally, Chief Barr. Dumo Lulu-Briggs assured the Chairmen of his Senatorial District of his absolute and unreserved loyalty to building a formidable party structure in partnership with all interested party faithful and encouraged them to prioritize party's interest above individual interest.